Drones, high capacity auto prime pumps, autonomous vehicles, robots, all played a role in the seemingly impossible rescue, reports Pranjal Sharma.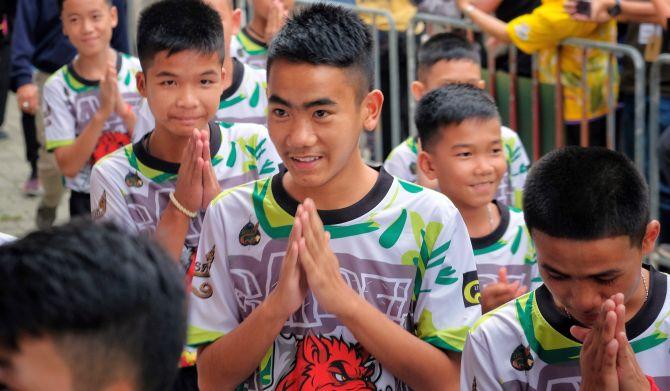 As millions across the world cheered the rescue of Thai soccer players and their coach, the importance of technology in disaster and rescue missions was celebrated as well. Human grit, courage and skills were adeptly supported by technology that enabled a seemingly impossible rescue.
Let's take a look at how smart devices helped the rescue and explore how new age technology is critical for disaster management.
After the British divers went deep enough to discover the boys, the next step was to assess entry points for rescue. For this drones were flown over and around the mountain. These drones had thermal camera and optical lenses with 30X zoom capability. In a pre-drone era, rescuers and terrain experts would have had to physically explore the area to assess entry points which could be more than 100. The drones were able to identify and shortlist entry points in hours instead of days. With heavy rain forecast, the use of drones accelerated the rescue.
Remotely operated underwater vehicles were considered to scan the area with higher accuracy. This is where Elon Musk jumped in too. His quick offer for a baby submarine was not finally used as there wasn't enough time.
A critical need was communication. Traditional radio systems need line of sight for communication so they are ineffective in a cave system. Here two communication systems from two different eras were deployed. The British team used two decade old tech of ultra-low frequency radios that could penetrate rocks for basic communication. The real breakthrough came from Israel's Maxtech Networks that allowed voice, data and video connectivity for the trapped with the rescuers outside.
This new system allows a clutch of small handheld devices to work in tandem to create a chain of connectivity in tough conditions.
"The max mesh system automatically adapts to varying network conditions, degrees of client mobility, and relevant RF environmental conditions on a packet-by-packet basis, creating a virtual infrastructure with a powerful, ad-hoc, self-healing and self-routing multi-user network," says the company. Essentially, it is an algorithm that deploys a proactive routing technique in non-ideal conditions. The devices could connect to each other through the twisting passage ways of the cave system.
An Indian company was on site too with a team of experts to help dewater the passage ways. Kirloskar Brothers Ltd was requested by the Indian high commissioner in Bangkok to contribute. KBL responded with agility to send its high capacity auto prime pumps. These pumps have automated features that can remove water at a higher pace than the ones which were unable to cope with inflows at the site.
India's ministry of external affairs and ministry of defence were on standby to air-lift the pumps while the KBL team was on the ground working with rescuers. KBL's pumps had been used in 2011 for flood control operations in Thailand.
Such agility is critical for disaster management and rescue missions in India. The United Nations office of Disaster Risk Reduction and the government have been devising new strategies. Apart from deployment, capacity building for use of intelligent technologies should be part of the plan. Disaster teams have to be adept with technology. UNISDR has included India in the top five countries with most disasters in 2005-14 with a damage of $47 billion.
Autonomous vehicles, robots, AI-based communication networks and satellite technologies are essential for predictive alerts, rescue missions and smart disaster response. The main lesson from Thai rescue is that disaster management planners have to invest in tech preparedness for effective results.