Chirag, like many other leaders who have lost control of their parties, underestimated the adversary.
Aditi Phadnis reports.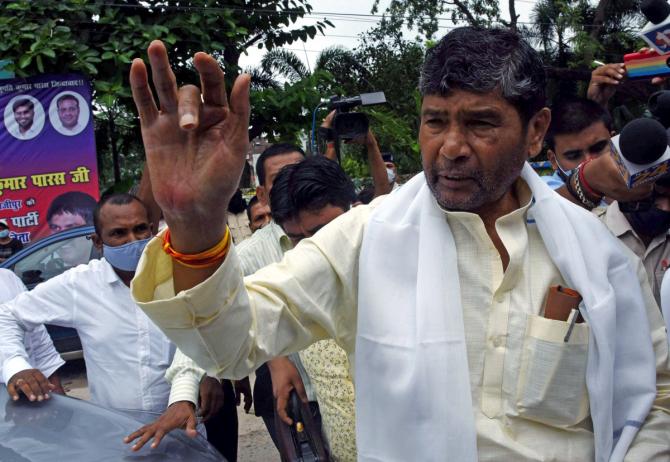 Everyone else could see it coming -- except Chirag Paswan.
On June 13, five out of six Lok Sabha MPs of the Lok Janshakti Party deposed Chirag (38) from the presidentship of the party, met Lok Sabha Speaker Om Birla and asked that Pashupati Kumar Paras (68), Chirag's uncle and the late LJP founder Ram Vilas Paswan's younger brother, be recognised as their new leader in the Lower House.
By the afternoon, the Lok Sabha secretariat had recognised Pashupati Paras as the new leader of the LJP. Paras summoned a meeting of the party national executive and is in the process of divesting his nephew of all his responsibilities and powers, including financial ones.
In a smooth parallel move, Paras announced that LJP would now support the leadership of Chief Minister Nitish Kumar and his Janata Dal-United, while staying in the National Democratic Alliance.
This was a move to the opposite end of the political spectrum: Through the 2020 Bihar assembly election campaign, Chirag Paswan had steered his party through an anti-JD-U posture, and though his party could win only one seat out of the 140 or so it had contested, it damaged both the JD-U and the BJP in at least two dozen constituencies.
This was Chirag's personally crafted strategy. It failed miserably. And now, the one having a quiet laugh is Nitish Kumar.
Paras may have conducted a successful coup to oust his nephew, but he is an undeserving beneficiary of its political largesse.
"Pashupatiji is largely just a family member. It was only because of Ram Vilasji that he got recognition and currency. But in Bihar's Dalit society and politics, Pashupatiji has not been especially active," said a professor at Jawaharlal Nehru University and an active follower of Dalit politics in Bihar.
Pashupati Paras came into politics along with his brother in 1977. He gained from his brother's political moves -- in 1996, he became a minister in Lalu Prasad Yadav'ss government, but resigned when the then Janata Dal began seeking Lalu's resignation amid corruption charges. His friendship with Nitish Kumar has been steady and undimmed. Both belong to the undivided socialist family, after all.
"Pashupatiji has largely been a backroom boy, content to stay in the shadow of his brother," said a local Congress leader. "He would manage the party's affairs in Bihar, but never addressed himself to any burning issues of Dalits. He didn't really have to exert himself much. He knew that as long as Ram Vilas was there, his ration-paani was secure," he said.
But Chirag's promotion and eventual elevation within the party meant Pashupati Paras was eclipsed. Chirag, like many other leaders who have lost control of their parties, underestimated the adversary.
Leveraging on their past good relations, Nitish Kumar's managers contacted Pashupati Paras. It was not hard to persuade him to dump Chirag.
"Those who are with Paras are known in Bihar as bahubalis. They have no particular affinity or commitment to Dalit causes," said the JNU professor.
Does this mean the LJP as a social experiment is over?
When Ram Vilas Paswan launched the LJP in 2000, it was seen as a party of the Dalits, specifically the subcaste Dusadh, which is numerically only about 2 per cent of Bihar's population.
A study by the Centre for Developing Societies (says that 65 per cent of the Dusadhs voted for the LJP when it contested on its own in the 2005 assembly elections.
But since then, a majority of the caste has voted for the alliance the LJP had joined before elections.
In the 2015 assembly elections, 51 per cent of Dusadhs voted for the National Democratic Alliance, making it a grateful recipient of votes it might not normally have won.
The LJP, thus, came to represent a vote bank. With the committed votes of his caste, the party could afford to create a coalition that included upper castes.
Says Bharatiya Janata Party MP from Bihar Rakesh Sinha: "Ram Vilas Paswan earned his spurs as the representative of the poor and the marginalised. Although he was a Dalit, he never indulged in politics of anti-upper casteism. Therefore, he enjoyed the goodwill of the upper castes."
Ram Vilas could carry it off because of his deep connection with people, especially his own. Neither Pashupati Paras nor Chirag have the common touch.
"He (Chirag) looks smart and handsome and all that. A leading Bihar film-maker told Ram Vilas Paswan he would launch his son in films in Mumbai and negotiated a Rajya Sabha seat. Chirag acted in a couple of films. But with his supporters and his family, he behaves as if he is a top star, as if there is no one equal to him. Arre, you've not become an MP because of anything you have achieved. It is all because of your father. But Chirag does not accept this," said a Dalit social scientist.
What this means is that LJP as a party will dwindle away -- unless Chirag throws himself into reviving it.
The BJP has little support among Dalits in Bihar. And Nitish Kumar, who is feeling the pressure from the BJP, but has no option but to live with it, will now likely expand the ambit of his ati-picchre (extremely backward) appeal to reach out to the Paswans, strengthening himself but weakening the BJP.
Caste politics in Bihar is headed for interesting times.