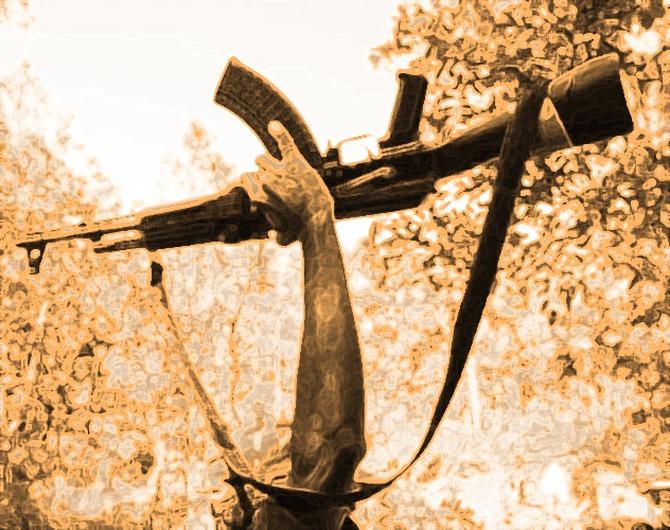 The deadly Maoist ambush, claiming the lives of 14 Central Reserve Police Force personnel in Chhattisgarh's Sukma district, was planned and supervised by local Naxal leaders who were reportedly camping in south Bastar for past few days, a senior police official said on Tuesday.
"We received several inputs that dreaded Maoist leaders of Dandakaranya region were holding meeting in forests of south Bastar-Sukma, Bijpaur and Narayanpur, worried over large number of surrenders and arrest of their cadres during the past few months," a senior police official involved in anti-Naxal operations told PTI on condition of anonymity.
"We suspect that the attack was planned and carried out by the same group of leaders by taking the support of local lower rung supporters," he said. The official, however, did not rule out involvement of Maoist's Dandakaranya special zonal committee secretary Ramanna, the top Maoist leader of the region.
Preliminary information indicates that nearly 150 armed guerrilla military cadres were positioned on three sides in the forests of Kasalpada and Elmaguda and were assisted by a supporting group of around 100 militia and sangham supporters of local villages, he said.
The Maoists certainly got a tip-off about the route of security forces during their return to camp on December 1 after a three-day-long search and area domination operation and may have set up the ambush in just a short span of time, he said.
Prima facie it appears that light machine guns used by the cadres caused much damage to the security personnel, he said. After the encounter, Naxals looted three under-barrel grenade launcher armoured AK-47, 7 AK-47, one Insas-LMG, one Insas, a bullet-proof jacket, a GPS, one binoculars, a monopack and several magazines of AK-47, Insas and Insas-LMG of CRPF men and fled to the dense forests, he said.
The official ruled out any intelligence lapse in view of the incident and said routine area domination operations were intensified in the region from past several weeks and were not based on any specific inputs. Meanwhile, security has been tightened across the Naxal-hit Bastar region as the Maoists are observing Peoples' Liberation Guerrilla Army week from today in the honour of their slain leaders.
Looking at the previous incidents during the PLGA week observed from December 2-8, anti-Naxal operations were already intensified in their strongholds, Inspector General of Police Bastar Range SRP Kalluri said.
The Naxals on Monday ambushed a security squad killing 14 CRPF personnel, including two officials, and injuring 15 others in insurgency-hit Sukma district. A joint squad of CRPF 223 battalion, its elite Commando Battalion for Resolute Action 206 battalion and district police was attacked by a large group of armed rebels in Kasalpada village forests when the security forces were returning to their camp after operation in the Chintagufa region, about 450 kms from Raipur.
The incident took place in the same base region of outlawed Communist Party of India-Maoist where 76 troopers were massacred in 2010. Chief Minister Raman Singh returned from his Delhi tour late on Monday night to Raipur and chaired a meeting of senior state officials, including of home and health department.
He asked to provide better medical treatment to the injured jawans and gave necessary instructions to the officials in view of the visit of Home Minister Rajnath Singh, who arrived here today to review the situation.
The injured jawans are being airlifted to Raipur for treatment while the bodies of martyred security personnel are also being brought to Raipur in choppers.