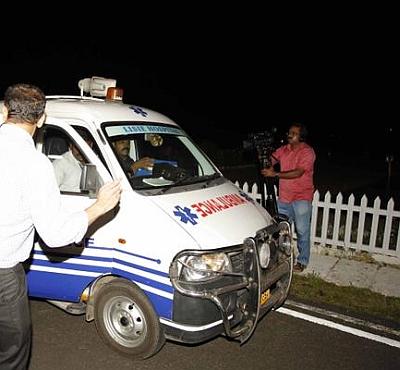 In a mission marked by clockwork precision, the heart of a brain dead man, brought to Kochi by a naval air ambulance, has been successfully transplanted in a 47-year-old autorickshaw driver at a hospital.
"So far so good. All steps in the process are perfect," said a doctor, who is part of the team which undertook the six-hour long surgery last night on receipt of the live heart, brought from a Thiruvananthapuram hospital onboard the Navy's Dornier aircraft.
In a first such effort in organ transplantation in Kerala, the air ambulance was used to transport the heart to ensure that the organ reaches the recipient in time.
A team of doctors, led by eminent cardiologist Jose Periyappuram at the Lissie Hospital, successfully transplanted the heart in Mathew Achadan of Chalakudi.
Doctors said the patient would be under observation for two days and he could slowly return to normal life through proper medical care.
A team of doctors from Kochi harvested the heart from brain-dead Neelakantan Sharma at the Sree Chitra Institute of Medical Sciences and Technology in Thiruvananthapuram around 6.30 pm and it was immediately taken to the airport from where Navy's Dornier aircraft transported it here in 40 minutes.
Chief Minister Oommen Chandy, who arranged the air ambulance to airlift the heart, termed it as a "great achievement" in the state's medical history.
Expressing gratitude to those who worked behind the complex operation, he said the state government will continue to encourage such endeavours in future also.
The chief minister also expressed special thanks to the kin of Sharma who donated the heart.