Mumbaikars searched for ways to get out of the many traffic snarls, reports Rediff.com's Hemant Waje who was caught in the traffic blockade for hours during Wednesday's Maharashtra bandh.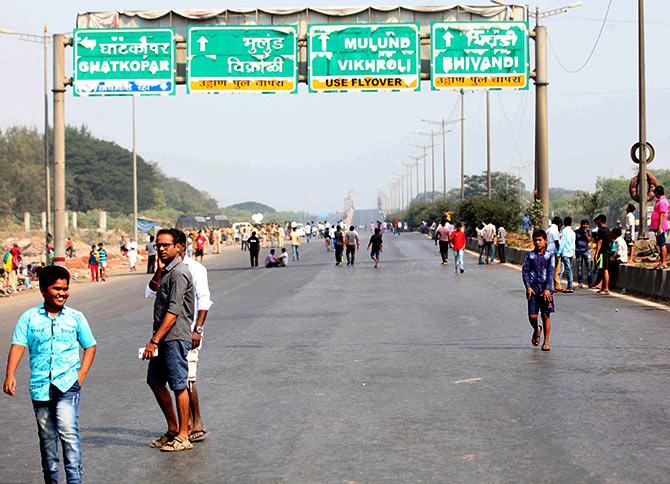 IMAGE: Parts of the Eastern Express Highway connecting Mumbai to its eastern suburbs turned into a playground on January 3, 2018 during the Maharashtra bandh called by Dalit organisations. Photograph: Sahil Salvi
It's 10.15 am on Wednesday, January 3.
All roads leading to south Mumbai from the eastern suburbs are deserted.
Suddenly, at Kanjur Marg's Gandhi Nagar signal, on Lal Bahadur Shastri Marg, a large number of people with purple flags spring up from nowhere to stage a rasta roko.
From the elderly to seven and eight year olds, a crowd quickly gathers to form a human blockade on one of the two arterial roads connecting the eastern suburbs to Mumbai -- the other being the Eastern Express Highway.
The hitherto empty road is suddenly packed with people shouting anti-government slogans and praising Dr B R Ambedkar.
In a minute, aggressive youngsters place stones and concrete blocks on the road to stop vehicular traffic to protest against the attack on Dalits in Pune's Bhima Koregaon area on January 1.
Anxious, confused, Mumbaikars -- who faced a similar situation the previous night while returning home -- now have to choose between two options: Take a U-turn and go back home, or brave the road and rail rokos to get to their workplace.
Policemen with riot control shields and helmets stand ready, but make no attempt to move the protesters or open up the roads to motorists.
As the crowd swells and traffic comes to a complete halt, a biker suddenly tries to evade the blockade.
Around 20 to 30 people chase him, jump on him and force him to park his bike.
Some try to assault him with sticks and stones, but some elderly protesters come to the biker's rescue.
"We announced the bandh yesterday itself, so why are you not following our instructions?" one protester shouts at motorists.
"We don't want any violence. We only want justice for victims of the violence that took place in Bhima Koregaon," shouts another.
Although the protest is largely peaceful and the protesters let pedestrians pass, the anger in them is evident.
"If necessary, we are ready to shed our blood," says Bhaskar Kharat, a protestor. "We demand strict action against those who attacked the Dalit rally in Pune."
******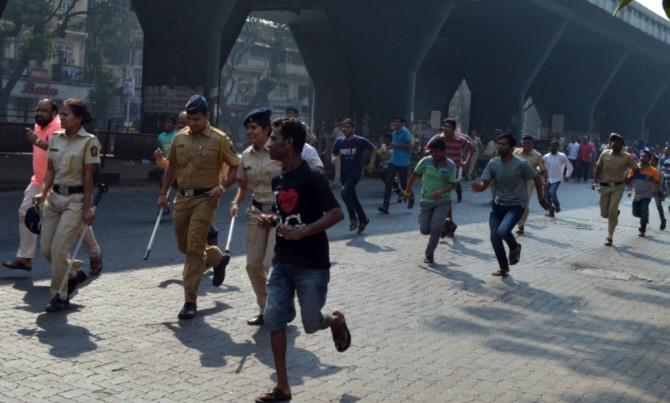 IMAGE: The police was out in strength during the bandh, but did nothing beyond maintain a presence. Photograph: Sahil Salvi
"Ekach Saheb, Babasaheb (only one true leader, Dr Ambedkar)."
The previous evening, a group of 10 to 15 people chanted this slogan while moving a gigantic cement pipe on the Eastern Express Highway to block traffic in Ghatkopar's Ramabai Ambedkar colony.
Twenty years ago, on July 11, 1997, the colony saw at least 10 Dalit deaths in police firing while protesting the desecration of an Ambedkar statue.
Mumbaikars, unaware of the preparations that had gone into disrupting the city's traffic from Tuesday itself, could only search for ways to get out of the traffic snarls.
Angry protesters halted vehicles even as policemen either remained silent or instructed them to turn around and return in the direction they had come from.
"What is our fault?" one motorist asked, looking for alternative routes to return home.
Suddenly, two bikes festooned with saffron flags zipped through the sloganeering crowd.
The protesters stopped the bikes, removed the saffron flags and quizzed the bikers about where they were heading to.
After the policemen intervented, the protesters let the bikers leave.
In Vikhroli, a few kilometres away from Ramabai Ambedkar colony, only a handful of vehicles were seen on the usually busy Eastern Express Highway linking Mumbai to Pune and beyond.
People who left their offices early to get home were waiting on the highway for public transport -- buses, auto-rickshaws, anything -- but in vain.