Rediff.com's Vicky Nanjappa -- in a five-part series -- reveals how the Intelligence Bureau and security agencies painstakingly tracked the Indian Mujahideen leadership.
Part I: How IM terrorist Tehsin Akhtar was arrested
Part II: How IM's bomb expert Waqas was caught
Here is how Lashkar-e-Tayiba's bomb maker Abdul Karim 'Tunda' was captured after being on the run for 30 years.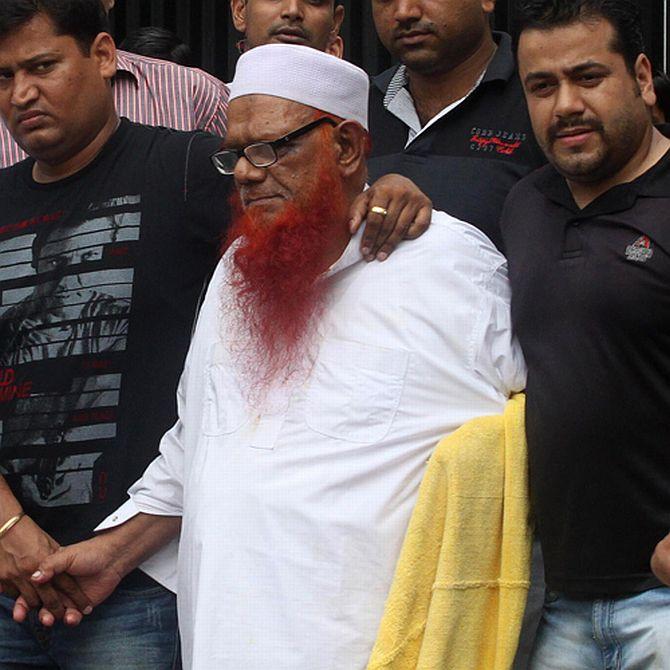 It took Indian intelligence and security agencies almost 27 years to hunt down Abdul Karim 'Tunda'.
The carpenter from the Bazaar Khurd area in Pilkhuwa in Uttar Pradesh's Ghaziabad district joined the terror network at the age of 40.
The Lashkar-e-Tayiba trained him well. For two decades, 'Tunda' -- the name he was known by after he lost his arm in an explosion -- was the Lashkar's bomb maker. His name featured in at least 40 bombings in India.
As age caught up with 'Tunda', the Lashkar found an alternate role for him -- as motivational speaker and trainer in manufacturing bombs.
'Tunda' made several visits to India during his 30-year career in terror. His focus area was largely Uttar Pradesh from where he recruited several young Muslims.
Two years ago, the Intelligence Bureau received a tip-off that a Lashkar operative named Abdul Quddus, aged between 65 and 70, was planning to leave Pakistan on a passport bearing the number AC 4413161.
Quddus was shadowed by IB agents on his way to the airport. They discovered that the man, who sported a henna-coloured beard, was travelling to Nepal via Dubai.
By the time, Quddus's flight landed in Dubai, Indian agencies had discovered his real identity -- it was Abdul Karim 'Tunda'.
He had planned to cross over to Uttar Pradesh via the Nepal border. To avoid diplomatic roadblocks like extradition, the arrest was delayed.
The Delhi police's special cell, which had been tipped off by the IB, sent a team to Kathmandu.
'Tunda' was arrested as he was about to drive down to the India-Nepal border.
He was visibly upset that he was arrested just when he had decided to retire from terror; he was not crossing over to India to carry out any operation.
It appeared he was of no more use to the Lashkar considering that it did not take the necessary precautions that it did while sending an operative out of Pakistan.
Part IV: How 26/11 handler Abu Jundal was captured
Image: Abdul Karim 'Tunda' in custody. Photograph: Reuters