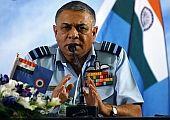 The chief of Air Staff on Friday stressed the need for protecting India's space assets in the wake of China developing anti-Satellite (ASAT) weapons and pushed for building the country's military space capabilities.
"A quite space race and even weaponisation to some extent is the current reality," Air Chief Marshal P V Naik said without naming China, delivering the Air Chief Marshal L M Katre Memorial Lecture in Bengaluru.
Beijing successfully undertook ASAT test in January 2007, and last year publicly declared that China's Air Force would begin to develop 'offensive operations' in space.
Naik said more than the others, it's airpower that's most significantly enhanced by integration of space-enabled capabilities.
"India's rising stature and acceptability are an opportunity for us to push for creating an adequate military space capability," he said.
"The dependence on satellites has emerged from the fact that the space-based systems can accomplish their missions in a technically superior manner and more economically than achieved by other means," Naik said.
Hence, Naik said, the vulnerability of satellites to anti-satellite weapons becomes an issue, due to these types of attacks from adversaries.
"As a result, development of ASAT technology is taking place in our neighbourhood (China)," he said.
"In order to ensure that our increased dependence on space does not become a vulnerability, defending space-based assets assumes vital importance in the 21st century," he continued.
When asked if he is in favour of India going in for weaponisation of space, Naik said, "I am not."
Asked for his views, former IAF chief Air Chief Marshal, F H Major, told PTI, "It's not our policy (weaponisation of space). But very difficult to predict what we will do in years to come. As a policy, we are against (weaponisation of space)."
Naik also said Indian Space Research Organisation has been told that a satellite is required for the armed forces. "They (ISRO) will decide (to build one) as and when they can," Naik said.
Asked if it is a dedicated satellite for IAF, he said he cannot say anything about it at present.
The Air Chief Marshal said IAF expects to become a network-centric force in about two years from being just about a network-enabled one.
"We have what's known as Air Force NET (AFNET)...that's based on fibre technology...optical fibre that will be the base. On that there will be something called IACCS (Integrated Air Command and Control System) that's the ground arm. Then there is air arm where AWACS (Airborne Warning and Control System which is described as eye-in-the-sky) and other elements with the operational data link...will come in. Satellites will form the space arm of the net centricity," he explained.
While AFNET is expected to be activated by June, IACCS would be operational in two years, he added.
Image: IAF chief P V Naik
© Copyright 2020 PTI. All rights reserved. Republication or redistribution of PTI content, including by framing or similar means, is expressly prohibited without the prior written consent.