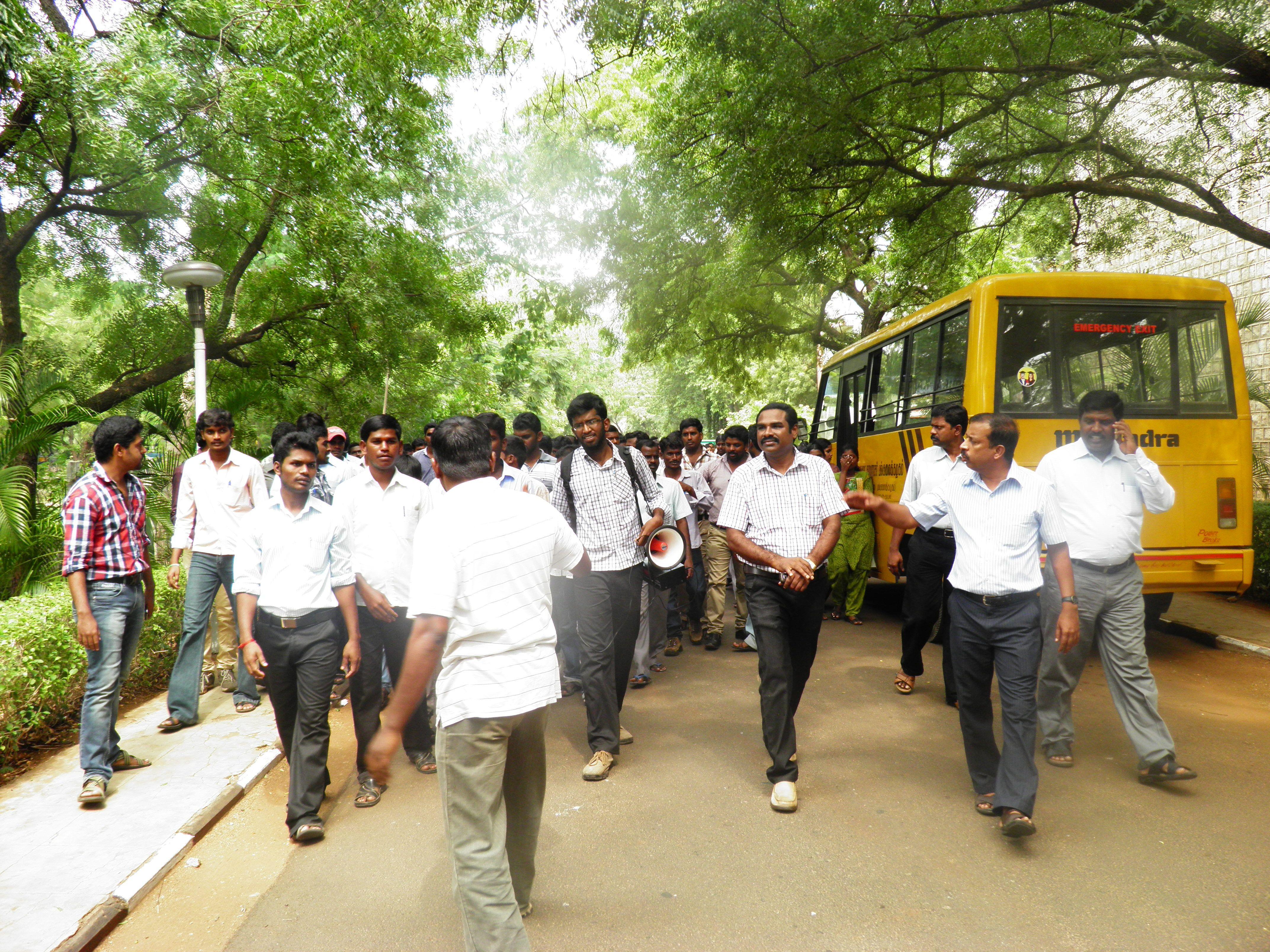 Madurai Kamaraj University in Tamil Nadu, which has been rocked by student protests over the last few days, closed down two days ago. A Ganesh Nadar visits the campus to find out what went wrong.
The 47-year-old Madurai Kamaraj University, under whose aegis 108 educational institutions function, has been shut down for the last two after days of protracted agitation by students against the management. A visit to the university campus reveals the chasm between the students and the university's vice chancellor.
Read: Why a 47-year-old university is in turmoil
There is a guest lecturer who has been dismissed, a clerk who has been suspended, a professor who has been demoted, 15 clerks have had their salary slashed and last but not the least there are people languishing as temporary workers for 41 years.
M Parthasarathy has been working at the university for 20 years. He worked as a sweeper for 10 years, got promoted to a clerk, and is now assistant superintendent. He is the secretary of the SC/ST Union in the university, and as secretary he is allowed to talk to the press.
"The university called for 176 sweepers and clerks. I told them that there was a backlog of 51 vacancies for SC/STs and that should be filled before calling for new recruits, in line with a Supreme Court judgment of 2005."
But, he says, in August this year the university called for nine temporary drivers, all from the open category. "I wrote to them saying you have not selected a single SC/ST and if you don't, I will go to court."
For this he says he was transferred to Aruppukottai, which is an MKU constituent college, and he commutes to and fro Madurai everyday.
"An obscene letter was circulated in my name but I denied the allegation. I complained to the police that a letter was falsely implicating me. In the meantime the university called for five new professors, and I got a stay on it as there was no SC among them."
On December 3 Parthasarathy was suspended. He claims he was told to vacate his house on the campus, and officials threatened to cut off power and water supply to his home.
N Ramachandran, MBA, M Phil, PhD was a guest lecturer in Madurai Kamaraj University from 2009 to 201l, a teaching assistant in the evening college till 2012 and subsequently in the day college. On December 3, he was dismissed by the university's syndicate.
He told Rediff.com, "Students had organised a fast in protest against Sri Lanka's policies and as a supporter of Tamil Elam I inaugurated that fast. I did not participate in it.
"I was sacked because of that. I asked for a written order but the principal refused. I will move the Court and ask for restatement."
However, the syndicate's agenda says, '(Ramachandran) was involved in the student agitation in the campus on 19/3/13 without obtaining permission from higher authorities.
He has led agitations in Madurai city in the form of fasting, processions, burning of effigy etc between 13.3.13 and 26.3.13. He has links to Tamil Chauvinist groups'.
Professor S Krishnaswamy, a head of department, has been demoted to professor. Also convenor of the All University Faculty Association, he told Rediff.com, "I have not taken any action as I have not received any notice from the University. At the syndicate meeting they decided to remove me as HoD citing indiscipline and financial irregularities."
Students, however, say he was removed as he supports students and was mentor to Ishwari Bandarnayake for her PhD, who has been asked to leave the university. "As HoD he can attend syndicate meetings and they did not want him there," said Pandiarajan, a dismissed PhD student.
Madurai Kamaraj University Hostel Worker's Union President G Pandiarajan and General Secretary J Balasubramaniam say the staff have had a litany of woes since 1972.
Of the 119 who joined duty in hostel in 1972, 89 are left today, of whom 17 are yet to be made permanent, allegedly because they had sued the university. In fact, the case filed by them is still pending before the Supreme Court. For their trouble, these 17 have had their pay reduced and transferred to various places outside the campus.
They also accuse the vice chancellor of terminating their provident fund.
Dr Kalaivani Mathivanan, the V-C, is unfazed by the accusations. She told Rediff.com:
"Parthasarathy has denied writing the obscene letter but the police's handwriting experts say it is his signature on it. As for SC/STs, in appointments we always follow government guidelines on reservations.
"Any lecturer who participates in agitations cannot work here. Also, indiscipline by any students or staff will not be tolerated. I have to look after thousands of students and in 108 affiliated institutions. Everyone cannot do as they please.
"As for temporary workers, who asked them to work here! They were appointed for 89 days and then there was a break after which they rejoined. They could have found better paying jobs, they did not.
"But I have been trying to help them. I have given them consolidated pay from the daily wages they were earning earlier. As for salary reduction, those few were drawing excess salary at the expense of others and I had to cut it.
"There was no provident fund scheme to begin with, so how could I have stopped something that was never there!"
Image: Agitating students of Madurai Kamaraj University take out a procession.