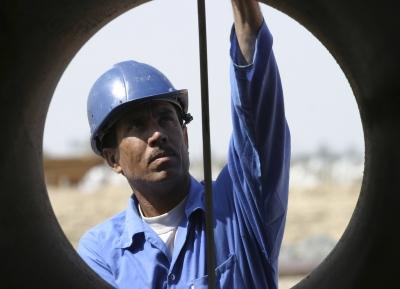 The kidnapping of 40 Indian workers from Mosul town of strife-torn Iraq should be a lesson to those who rely on fraudulent agents to find them jobs in the Gulf countries, says Vicky Nanjappa
According to sources, there is no official count on the number of Indians in Iraq. On the basis of the information provided by various state level agencies who are trying to track down such persons, the government has come to a conclusion that there are 18,000 Indians currently living in Iraq.
A few agencies in New Delhi and Punjab are the primary culprits for this mess. These agencies focus on Iraq because the money is better when compared with the rest of the countries. This is largely to do with the fact that there is a dearth of labourers in that region, and construction companies are ready to pay hefty sums for skilled labour from India.
The agents charge these persons anything between Rs 2 lakh to Rs 4 lakh depending on the nature of the job. These persons are promised that they would be paid salaries over $1,000 (about Rs 60,000) a month, and the people are more than ready to shell out money with the hope that they would earn much more in Iraq. However these people don't realise the trap that they are falling into.
Apart from collecting money from these persons, these agencies also make a tidy sum from the firms which are in need of labourers. Oil rig owners and construction companies are ready to pay anything between Rs 1 lakh and Rs 4 lakh per person. While this is one part of it, the agency also tells these people that they would not get their full salaries for three months since that would be the payment towards their visa and transport.
According to the information collected by the agencies, there are 3,000 people from Telangana and Andhra Pradesh in Iraq. However, the official count as per the Foreigners Registration Office, there are 1,777 people who have official clearance to go to Iraq. This means, that the fate of the remaining 1,223 is not known. The case is very similar in Punjab too.
There are around 1,400 persons who have gone to Iraq through these fraudulent agents. According to sources, some of them are even a part of the 40 persons who have been abducted by the militant group Islamic State in Iraq and the Levant in Iraq. This makes the job of the Indian government extremely difficult when it comes to track them.
These persons are not sent to Iraq directly; instead, they are sent to Dubai or Saudi Arabia on a tourist visa. Once there, they are told to wait for four days before they are transported into Iraq illegally, which only earns them the status of bonded labour when they are in that country. As a result, when agencies try to track them down, the records simply indicate that these persons are on a tourist visa either in Dubai or Saudi Arabia.