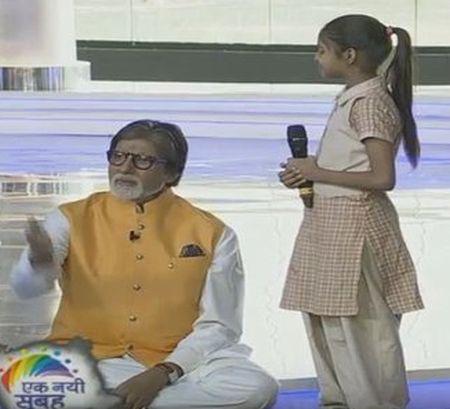 Actor Amitabh Bachchan was posed with quite the question on Saturday while he hosted the 'Beti Bachao, Beti Padhao' segment during the mega bash being held to commemorate Prime Minister Narendra Modi's two years in office.
"How have you become the Big B?" asks a seventh-grader to the Bollywood superstar. However, an unfazed Bachchan said, "Big B is just a name people in the media have given me. Here, look I am smaller than you," and sat down on the floor.
During the interaction, Bachchan also read two poems written by students.
Speaking at the event, Bachchan standing up for women's rights said, "No family should discriminate between a boy and a girl. The girl child needs to be protected and nurtured. The girl child needs to be protected and empowered. The 'Beti Bachao' campaign is the need of the hour."