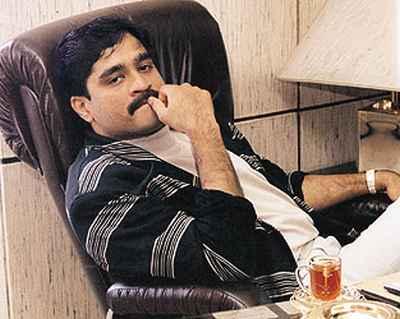 The Intelligence Bureau has alerted the Centre about the Dawood Ibrahim-led D Company's 'legal' foray into the ship-breaking industry which the latter used as a disguise to carry out not just arms and narcotics smuggling but also to sneak in terrorists from across the border. Vicky Nanjappa reports.
It's a known fact that India's most wanted man, Dawood Ibrahim, mastermind of the 1993 Mumbai blasts and dreaded underworld don, funds terror outfits in exchange for protection in Pakistan.
Despite so much talk about him and with the United States designating him as a terrorist a few years back, it is ironic how he manages to continue with his criminal activities. especially on Indian soil.
To put it in one sentence, Dawood Ibrahim uses a legal option to carry out an illegal activity.
In 2011,a group of men working for the D Company, as Dawood's underworld network is referred to, had floated a fake company in London and bribed officials in India to undertake the ship-breaking business.
This meant that this company had the rights to bring in a ship in bad condition into Indian waters and undertake the breaking operation in India. Ships in bad condition normally enter the Indian waters through Chennai and are brought largely from Sri Lanka. This is then transported to Alang in Gujarat where the ship-breaking industry is based.

The problem is that these ships, when brought into India, are loaded with arms and drugs and very often get away as normally they go unchecked as they have a valid permit under the guise of a ship-breaking licence.
Also in many cases officials do not check these ships as they have been bribed on several occasions.
The first time that the Intelligence Bureau brought this to the notice of the central government was in 2012. The IB, during its briefing, had detailed the entry of these ships into India and also spoke at length about the security risks involved. Not just arms and drugs but at times even cadres of terrorist outfits are brought in and offloaded at select ports including Chennai, the IB had reported.
The agency also stated that while the original destination had to be Alang, many of these ships do not stop there and manage to get away. In the past two years, at least 15 ships which were brought in to be dismantled never reached Alang and have disappeared off the Indian coast, the IB had further stated.
Recently the Centre decided to revisit this subject and sought a detailed report. This falls under the ambit of maritime security and there is hardly anything that the state authorities can do about this barring passing on information. Maritime security is directly under the control of the central government.
There are several indications to show that Dawood Ibrahim is not taking the new regime led by Narendra Modi lightly. There are reports that he shifted base from Karachi to Waziristan in Pakistan once the new government took over as he is aware one of the major agendas of the Bharatiya Janata Party-led National Democratic Alliance dispensation is to hunt him down.
Image: Underworld don Dawood Ibrahim