Congress chief Rahul Gandhi has taken to invest in young people from non-dynastic backgrounds to build a core team of 100-odd youths in every state who believe in the Congress party's philosophy, reports Archis Mohan.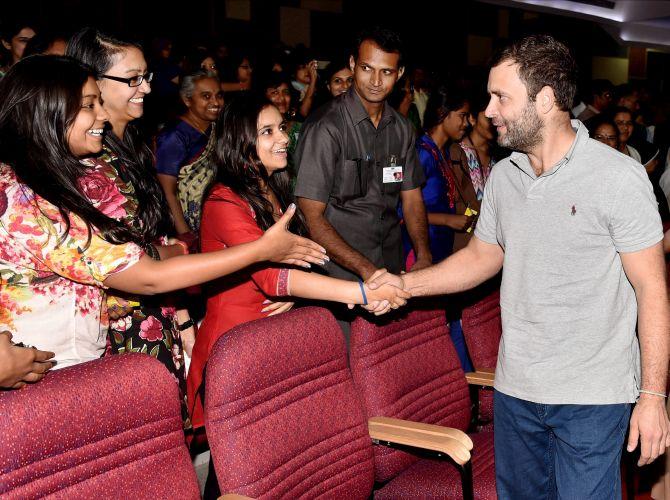 Over the past couple of weeks, 35 young men and women have sat listening to some of the top Congress leaders at a conference hall in Lutyens Delhi as part of a month-long fellowship programme organised by the party.
All of them are below 30 years of age, hail from across the country and from diverse economic, social and educational backgrounds but also have in common something that is unusual to find in Indian politics.
These youths were selected for the fellowship for their interests in social work and policy-making.
But ironically for a party like the Congress, their applications were favoured over several others because each one of them comes from families with no immediate close relation involved in active electoral politics.
The fellowship is the initiative of Ruchi Gupta-led National Students Union of India, or NSUI, the students' arm of the Congress party, with support from the party's research department that Rajya Sabha member Rajeev Gowda heads.
The Congress leadership is hopeful that the success of the fellowship could trigger similar exercises to attract younger talent to the Congress party.
The fellowship programme is to be used as a template for party's other teams to hold such programmes, including the research department, Randeep Surjewala-led communication department, Praveen Charavarty-headed data analytics department, and others.
If the Bharatiya Janata Party chief Amit Shah is trying to galvanise panna pramukhs to ensure a win in 2019, Congress chief Rahul Gandhi has taken to invest in young people from non-dynastic backgrounds to build a core team of 100-odd youths in every state who believe in the Congress party's philosophy.
The target of both is to reach out to the 150 million first-time voters in 2019.
Until now, leaders such as P Chidambaram, Jairam Ramesh, Shashi Tharoor, Salman Khurshid and others have addressed the group, which was selected after the NSUI circulated the information about the fellowship on social media and in educational institutes across the country and asked applicants to send two essays written by them.
Several studying in foreign universities applied, but people from smaller cities were "deliberately" selected, a selection team member said.
Gupta herself comes from an apolitical middle class background, as does spokesperson Priyanka Chaturvedi, Karnataka social media head Srivatsa and lawyer Mohammad Khan -- who have addressed the group.
According to Gupta, the objective is to get talented students to use the NSUI as a vehicle to enter politics and to make public discourse about issues and not individuals.
It is also to underline the Congress party's historical and contemporary role as a platform for ideas and ideologies.
"It is important to teach the youth to locate policy in politics, to appreciate the underlying world view of different policy choices and that electoral politics isn't the only kind of politics," Gupta said.
Several of the participants confessed to have voted for Narendra Modi-led BJP in 2014, but find themselves disillusioned.
"I am socially liberal. I come from a non-dynastic background, but believe I need to pick a side that contributes to India's progress and not focus on issues that take us back," Aniesh Jadhav, 25, a lawyer from Mumbai, said.
Until recently, Jadhav was working on policy with Devendra Fadnavis-led BJP government in Maharashtra.
"Dynastic politics is just one of the problems facing the country. I believe it is lot less of a problem then communal polarisation," Avantika Mohan, a first-year undergraduate from one of Delhi's lesser known colleges, said.
Vijeth Veerappa Saliyan, 25, is the archetypal participant that the NSUI was looking at for the fellowship.
Saliyan quit his studies at the height of the Anna Hazare-led movement, and was asked by his upset father to fend for himself.
"After that experiment and BJP's narrative of 2014, I finally realised what the UPA 1 and 2 governments meant for India in terms of the laws passed," Saliyan, who studied in Kannada medium in Mangalore, said and has ambitions to find a career in the Congress.
The test of this experiment, party sources said, would be apparent in the upcoming assembly polls to Rajasthan, Madhya Pradesh and Chhattisgarh.
But win or fail, the Congress party under Rahul Gandhi, said Gupta and others, is preparing for the long haul -- to make it the party of meritorious leaders that Mahatma Gandhi and Jawaharlal Nehru had led.