Syed Firdaus Ashraf/Rediff.com finds out why Sacred Games has run into trouble.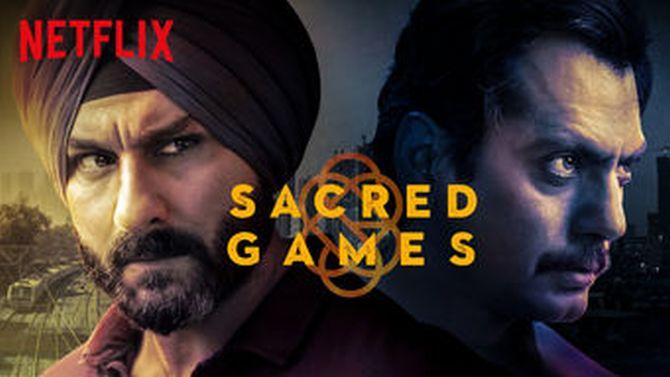 Just four days after Sacred Games started streaming in India and around the Netflix universe, Netflix's first Indian original series has run into political trouble.
Rajeev Kumar Sinha, a Congress leader in Kolkata, has filed a police complaint against Nawazuddin Siddiqui, the actor who plays Ganesh Gaitonde, a Mumbai gangster, and Netflix over a piece of dialogue that targets the late prime minister Rajiv Gandhi.
"Just listen to the language they have used against Rajiv Gandhi. Nawazuddin is calling Bharat Ratna Rajiv Gandhi a fattu (coward). How can he do that? How can you call Rajiv Gandhi, a Bharat Ratna, a fattu? I am deeply hurt," Sinha tells Rediff.com over the phone from Kolkata.
The dialogue in question is spoken in the fourth episode of the eight part series.
Asked if film-makers don't have the right to criticise politicians, Sinha says, "I don't know about the law, but I felt that dialogue was hurtful, so I filed the complaint."
If Nawazuddin and the Sacred Games producers have the right to freedom of expression, Sinha adds, he too has the freedom to be hurt.
"They are using their freedom of expression to make a serial and I am using my freedom of expression to express my unhappiness by filing a police complaint," says Sinha.
"They are trying to defame Rajiv Gandhi. Today on Whatsapp, the young generation is defaming Pandit Jawaharlal Nehru and Mahatma Gandhi all the time. Fabricated news is being circulated all the time against them," Sinha points out.
Asked about Union IT Minister Ravi Shankar Prasad's attempts to monitor Whatsapp, Sinha says, "Ravi Shankar Prasad is telling people that they must re-check facts before circulating fabricated and false news. The government wants to regulate Whatsapp and on the other hand his ministry is allowing such programmes. It is his responsibility to see that these things do not happen."
When pointed out that the Censor Board cannot take action against Netflix as it does not fall under the information and broadcasting ministry's purview, Sinha asks, "If Netflix does not come under the Censor Board, so does Whatsapp. So why is Ravi Shankar Prasad targeting Whatsapp?"