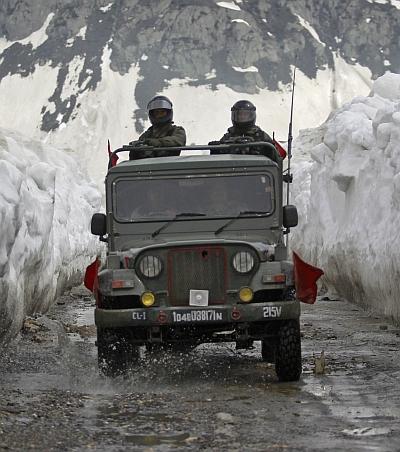 Unfazed by the 'sit-in' by the Chinese border guards at Demchok in Ladakh that led to a face-off with Indian troops earlier this week, Army engineers have finished the work for laying a water pipeline for irrigation purpose for local villagers in Ladakh division.
Chinese had pressed its People's Armed Police Force personnel at the Line of Actual Control in Demchok this time instead of the usual PLA who came to erect a Fibre-Reinforced plastic hut on Friday at the border but was not allowed by the Army and the Indo-Tibetan Border Police troops, official sources said.
The sources said that while the face-off between the two sides continued for three days ending on Saturday evening, the Army engineers, ignored the warnings by PAPF personnel and continued laying pipeline for nearly a kilometre for irrigation purpose of the villagers in Demchok, located 250 km east of Leh.
According to the sources, the formula of 'active patrolling' adopted by the ITBP and army ever since 2013 fortnight long stand-off near Daulat Beig Oldie has been
reaping rich dividends and Chinese have been cautious in carrying out incursion especially in Ladakh sector.
This time also, the sources said, army and ITBP personnel did not allow the PAPF guards to erect the hut and they were forced to take the material back to their base camp located a kilometre away at Demqog from the place of face-off.
The fresh incident had erupted on November 2 when Chinese troops took positions on the LAC and demanded that work be stopped as either side needs to take permission from each other before undertaking any construction work, a claim disputed by the India which says that as per the agreement between the two countries, information about construction needed to be shared only if it was meant for defence purposes.
Both sides pulled out banners and have been stationed on the ground, the sources said, adding the Army and ITBP troopers were not allowing the Chinese "to move an inch" ahead despite the PLA claiming that the area belonged to China.
The area had witnessed a similar incident in 2014 after it was decided to construct a small irrigation canal at Nilung Nalla under the MNREGA scheme which had been a sore point with the Chinese.
The PLA had mobilised villagers from Tashigong to pitch Rebos (tents) at Charding-Ninglung Nallah (CNN) Track Junction to protest Indian action.
Representative Image: Reuters