'This week will be crucial and we are prepared.'
Archana Masih/Rediff.com reports.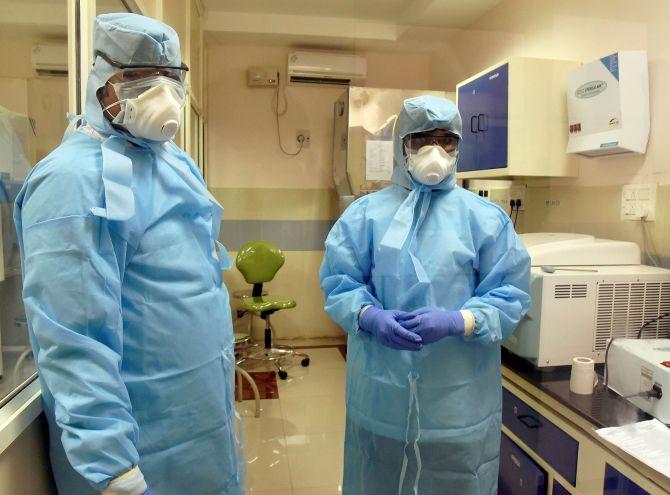 The armed forces have set up 19 dedicated hospitals to treat coronavirus patients.
In addition, it has also set aside separate wards in 32 other army and air force hospitals across the country.
Over 9,000 beds and around 400 ICU, and 1,033 high dependency unit beds have been readied in military and base hospitals to aid civil hospitals in providing medical care.
The hospitals are located in Delhi, Pune, Lucknow, Kanpur, Bangalore, Ahmedabad, Hindan, Visakhapatnam, Jodhpur, Ambala, Jorhat, Barrackpore etc.
The defence services are also equipped to carry out tests in five major base hospitals -- the Air Force Command Hospital in Bengaluru, the Armed Forces Medical College, Pune, Command Hospitals in Lucknow and Udhampur, and the Army Research and Referral Hospital in Delhi.
Isolation and quarantine wards have been set aside and every cantonment has been directed to prepare medical and quarantine facilities.
At six military locations -- Manesar, Jaisalmer, Jodhpur, Chennai, Hindan and Mumbai -- quarantine facilities house citizens evacuated from foreign countries.
The Indian Air Force evacuated passengers from Wuhan and Iran aboard a C-17 Globemaster III aircraft last month. C-130, An-32, AVRO and Dornier aircraft have been deployed into service.
The IAF airlifted nearly 25 tons of essential medical supplies in the last three days from Delhi, Surat, Manipur, Surat, Jammu and Kashmir and Ladakh. The supplies include personal protective equipment, surgical gloves, thermal scanners, hand sanitisers and medical personnel.
The IAF has set up nine quarantine facilities with 200 to 300 personnel at important bases across the country.
"This week will be crucial and we are prepared," says an armed forces doctor. "The service hospitals are there to aid civilians. It is a national emergency and doctors, nurses, pathologists, ambulance drivers, all are ready to face the challenge."
Work towards readying facilities had begun three weeks prior.
In hospitals where there are no positive cases as yet, the staff is prepared. Medical staff will be provided separate accommodation and not allowed to go home while treating COVID-19 positive patients.
In hospitals where there are no testing facilities, samples are being sent to the nearest labs after following the Indian Council for Medical Research laid down three-layered packing procedure. The samples are put in an ice box and transported.
IAF and Indian Navy aircraft have flown blood samples of suspected COVID-19 cases to Mumbai, Chandigarh and Delhi for testing.
At many military stations leave has been cancelled and those who were expected to return from leave have been asked to remain where they are till the middle of April. They have been told to seek medical help at the closest military hospital in case of any medical assistance.
Sanitising and isolation protocols are being adhered to for those coming from duties from other military stations.
Since armed forces personnel have to take permission for any foreign travel six months in advance, foreign travel by its personnel is not a major reason for concern. However, contact with people who have travelled abroad remains an issue.
Three army personnel -- including two medical staff and one jawan in Leh whose father had travelled to Saudi Arabia -- have tested positive so far. The jawan has subsequently recovered.
Military stations and units are adhering to sanitising protocols and are restricting outside contact into the bases.
Nearly 400 quarantined people who had traveled from abroad that were housed in military facilities have been discharged. Medical care to Indian citizens evacuated from Iran and Malaysia has been provided at IAF bases in Hindan and Tambaram.
"This is a crisis, a national emergency and the armed forces personnel are ready in the service of the country and its people," says the military doctor.
"Like always, we will do our duty honourably."