The new 'Mission 350+' is to focus on 150 seats where the BJP was number two or three in 2014, reports Archis Mohan.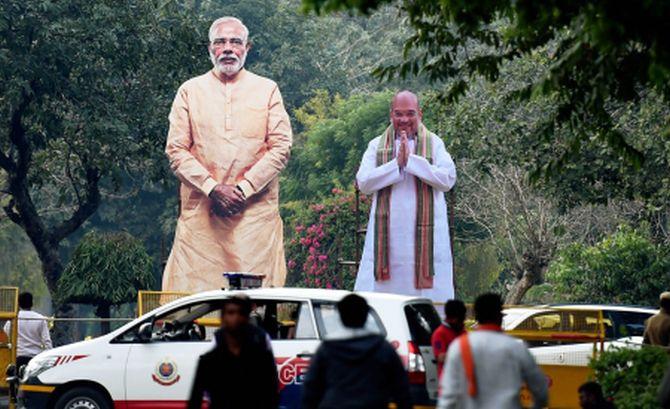 Amid anticipation on changes and possible expansion in the Union council of ministers, and on a day much of the Opposition was busy with a Sharad Yadav-led conference to 'save India's composite culture', Bharatiya Janata Party chief Amit Shah was in a long meeting on a longer-term aim.
He spent Thursday, August 17, in a meeting with 31 party leaders, including several Cabinet ministers, for putting together a strategy to enable the BJP to win at least 350 Lok Sabha seats in the 2019 national poll.
The BJP had won 282 seats in the 2014 Lok Sabha election.
The new 'Mission 350+' is to focus on 150 seats where the BJP was number two or three in 2014.
The 31 leaders were asked to focus on five seats each from this list, for the next two years.
Ministers who attended were Ravi Shankar Prasad, Piyush Goyal, Nirmala Sitharaman, Arjun Meghwal, Ananth Kumar, Jagdish Nadda, Prakash Javadekar, Manoj Sinha, Narendra Tomar and Dharmendra Pradhan.
Senior party functionaries also attended the nearly three-hour meet. Such as national General Secretary (organisation) Ram Lal and Himanta Biswa Sarma, senior minister in Assam and convener, North East Democratic Alliance.
Shah asked for a review on the implementation of central government schemes on the ground.
Analysis of states where the BJP had performed poorly in 2014, especially West Bengal and Odisha, was also presented.
Shah briefed the leaders on his recent visits to several states. The analysis on Bengal was tempered with the news that the Trinamool Congress had swept municipal polls, winning all seven civic bodies at stake in the voting last Sunday.
The BJP was second in most places, with the Left parties relegated to third position. The Congress failed to win a single seat.
An India Today opinion poll predicts that if the Lok Sabha election were to take place now, the BJP-led National Democratic Alliance would win; the results also came on Thursday.
It gives the NDA as many as 349 seats, with the BJP winning 298.
The Congress-led UPA is given 75, with the Congress tally at 47.
Other parties get 119 seats.
In Mumbai, Maharashtra Chief Minister Devendra Fadnavis sought to dispel speculation on his shifting to Delhi.
'There is no possibility as of now of my shifting to the Centre,' he said, adding he would continue as CM 'till Delhi calls.'
Some of the present Union ministers could find themselves dropped.
The Janata Dal-United is slated to get a Cabinet and minister of state berth. It will officially join the NDA at its national executive meeting in Patna on Saturday, August 19.
IMAGE: Giant cut-outs of Prime Minister Narendra Modi and BJP President Amit Shah at the party headquarters in New Delhi after the win in the UP election. Photograph: Atul Yadav/PTI Photo