Lashkar-e-Tayiba's Kashmir chief Abu Dujana was killed in predawn darkness on Tuesday and buried somewhere in north Kashmir in the dead of the night, senior security officials said on Wednesday, taking a cue from the operation against Osama bin Laden.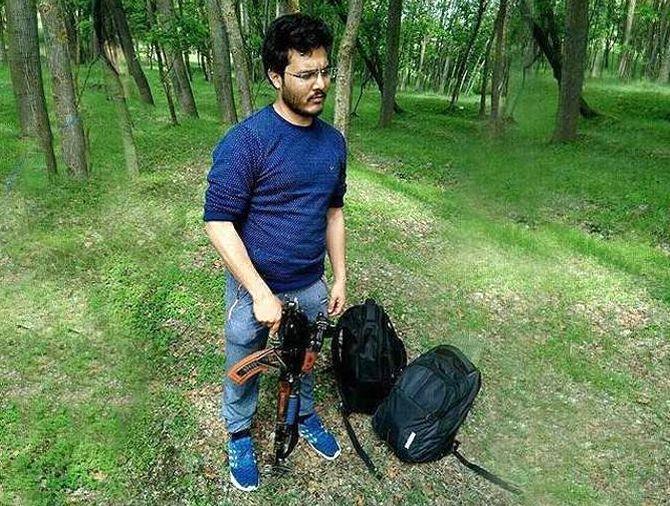 Darkness ran like a recurring theme as security forces launched an operation in south Kashmir's Pulwama district to hunt down the terrorist who had slipped away from their grasp more than 12 times.
And all the while, as dawn slowly turned to dusk and night fell over the Kashmir Valley, the Hollywood blockbuster 'Zero Dark Thirty', it is learnt, played in the minds of security officials.
The film, which chronicles the manhunt that felled Al Qaeda chief Osama bin Laden in Abbottabad, Pakistan, in May 2011 is what gave security officials the idea to conduct the operation at night.
The tip-off that Dujana was holed up inside a house in Pulwama district had come around midnight. Believed to be in his late 20s, Dujana had been elusive many times in the past and there were some suggestions that the operation be conducted after dawn to avoid "collateral damage", officials said.
"The movie and how Osama was finally captured came to our mind and we wasted no time in waiting for dawn," said a senior official, who was part of the operation, on condition of anonymity.
"After deliberations with senior officers, a call was taken to carry out the operations during the night itself and troops were mobilised."
Armed with "confirmed knowledge" from a trusted source about the presence of Dujana in the home of a woman he is believed to have married, crack teams of the Special Operations Group were quickly mobilised and moved towards Hakripura, adjacent to Neva, a bastion for LeT militants located 13 km from the district headquarters of Pulwama.
Dujana, along with his local accomplice Arif Bhat, was inside the house.
"For us, the inmates of the house were also civilians and we wanted to ensure their safety too. A first crack team of the police was sent amid heavy fire from the two militants. But his wife and other family members were taken out to safety," an official said.
Dujana and Bhat were killed in the exchange of fire that followed.
After ensuring complete secrecy, Jammu and Kashmir Police took custody of Dujana's body and moved it to the other side of the valley.
Dujana, who was killed in south Kashmir, was buried somewhere in north Kashmir. It's a place where other foreign terrorists are buried, an official said, without specifying exactly where.
"We have preserved his DNA sample before burying him last night amid darkness," the official said.
According to a Jammu and Kashmir Police spokesperson, both Dujana and Bhat were involved in a number of anti-national and subversive activities. These included the killing of politicians in Pulwama, hurling grenades at security personnel and recruiting local youth.
Dujana, described as a womaniser by the spokesperson, was also believed to be involved in the killing of two Central Reserve Police Force personnel at Sangam Bijbehara and an attack on police party at Pampore that claimed the life of two constables.
While Dujana had told his wife and other family members that he was from Karachi. Bhat was a local boy from Lellhar in Pulwama, the officials said.
© Copyright 2020 PTI. All rights reserved. Republication or redistribution of PTI content, including by framing or similar means, is expressly prohibited without the prior written consent.