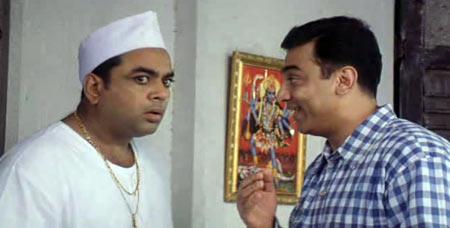 'The times are such that hard facts must be swept away in lies.'
'Not even a war of mere words seems civil in a delicate situation like this,' Kamal Haasan tells Subhash K Jha.
On Sunday, May 21, actor-turned-MP Paresh Rawal stoked a Twitter storm by declaring that author-activist Arundhati Roy should be tied to an army jeep in Kashmir the way a Kashmiri man was tied by Major Leetul Gogoi.
While many of Rawal's Bollywood colleagues flayed his comment in private, Kamal Haasan, who directed the comedian in Chachi 420, had enough to say on the record.
Speaking with tongue lodged firmly in cheek, Kamal Haasan said, "I hope both Arundhati Roy and the Kashmir extremists have a humorous bent of mind like my friend Pareshji."
Kamal Hassan -- against whom a case was recently lodged, for an alleged comment on the Mahabharat -- is careful not to say anything that could make him sound politically incorrect.
"I've been in enough trouble in recent times for speaking my mind. The times are such that hard facts must be swept away in lies. Not even a war of mere words seems civil in a delicate situation like this," the actor said.
"Urban sensibilities differ in tenor and deed to a rural or martial mindset. Urban high society debates like these in the media make me nervous. These urban critics are equally innocent as those victims of this politico-religious drama in Kashmir," Kamal Haasan said.
"There should be dialogue only between the actually disgruntled parties, not opportunists to whom the dead and injured are just numbers and statistics that add spice to their rhetoric," Kamal Hassan added.
"What is happening in Kashmir is older than Roy, Pareshji or me," he pointed out.
"The reason it looms over us even today is because of the politics of opportunism. I want to see a humane solution in my lifetime."
"When I went to Kashmir 27 years ago, a local asked me with a smile, 'When did you arrive from India?' I wonder what happened to that local in Kashmir. I am sure that young man is either making more of his kind or already in the victims list which has been only growing every year since then."
"I will absolutely not stand by and watch while soldiers, the police or my national flag is insulted by those who live off the dole and benefits of my democratic government," he added.
Even as Kamal Hassan chose to take the middle path in the Paresh Rawal controversy, actress Swara Bhaskar slammed the Hera Pheri comic.
"It is so shameful that this man who is in Parliament should talk like this. What a pathetic state of affairs this country has come to," she said.
"Paresh never hammed as an actor," a Bollywood colleague said, speaking on condition of anonymity. "He is making up for it as a politician."
IMAGE: Paresh Rawal and Kamal Haasan in Chachi 420.