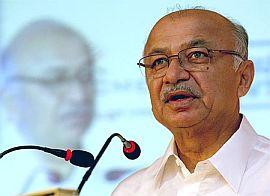 Union Minister Sushil Kumar Shinde on Saturday arrived on his maiden visit to Jammu and Kashmir after assuming the charge of the Home department and reviewed the development progress in Kargil district.

Soon after his arrival in Kargil, Shinde chaired a meeting of the Ladakh Autonomous Hill Development Council (LAHDC), officials said.

The meeting was attended by Ladakh Affairs Minister Abdul Rahim Rather, CAPD Minister Qamar Ali Akhoon and officers of the district administration.

Kacho Ahmad Ali Khan, the Chief Executive Councillor of LAHDC Kargil, presented a memorandum to the Union Home Minister highlighting various issues and demands of Kargil region.

The demands included starting of air service, work on the second phase of Zojjila Tunnel from Baltal to Menamarg and recruitment of local youth in central forces, the officials said.

Khan also demanded helicopter service for Zanskar and opening of Kargil-Skardu Road.

Addressing the meeting, the Union Home Minister appreciated the role and sacrifices of the people of Kargil.

He said the government will always recognise their sacrifices and provide development opportunities to all sectors of society.

On the demands made before him, Shinde said the airport extension work will be completed within two years while the work on Zojjila Tunnel has started.

Later, the minister flew to Leh district.