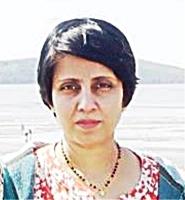 An Indian-origin nurse, who died after being duped by a prank call to a United Kingdom hospital treating a pregnant Kate Middleton, was found hanging in her room with injuries on one of her wrists and left behind three notes, police said on Thursday, ruling out any 'suspicious circumstances'.
"At this time there are no suspicious circumstances," Detective Chief Inspector James Harman told an inquest at Westminster coroner's court.
Fourty-six-year-old Jacintha Saldanha was found dead on Friday last, three days after the hoax call from two Australian radio presenters pretending to be the Queen and Prince Charles.
She had transferred the call at the King Edward VII's Hospital to a colleague who detailed 30-year-old Kate's condition. The inquest heard that Saldanha, a mother of two, was found hanging by a scarf from a wardrobe in her nurses' quarters near the hospital in central London.
Saldanha also had injuries on one of her wrists. "Jacintha Saldanha was found by a colleague and a member of security staff. Sadly she was found hanging. There was also injuries to her wrist. The London Ambulance Service was called to the scene. At this time there are no suspicious circumstances," Harman told the inquest.
He said that two notes were found in her room and another was among her possessions. He did not disclose their contents.
Harman, however, said police were studying the notes, interviewing Saldanha's friends, family and colleagues and going through the e-mails and phone records to establish the circumstances leading to her death.
"Detectives 'in the very near future' would also be getting in touch with police in Australia's New South Wales state to collect 'relevant evidence'," he said.
Coroner Fiona Wilcox adjourned the inquest until March 26, as inquiries are continuing.
"I would like the police to pass on my sympathies to her family and everybody who has been touched by this tragic death," Wilcox said.
The full inquest will be held after toxicology tests and further investigations. Prime Minister David Cameron paid tributes to Saldanha and offered condolences to her family on Wednesday evening.
"She clearly loved her job, loved her work and cared deeply about the health of her patients and what has happened is a complete tragedy," Cameron said at the House of Commons.
"There will be many lessons that need to be learnt." Labour Member of Parliament Keith Vaz said a memorial Mass would be held on Saturday at London's Roman Catholic Westminster Cathedral.
Australia's media watchdog, meanwhile, launched a rare fast-track probe into the broadcast of the prank call by a Sydney-based radio station. As the hoax call sparked global condemnation, the Australian Communications and Media Authority said it was using its special powers to launch a rare 'own motion' probe contrary to other cases where it has to wait for complaints.
A spokesman of ACMA said it would investigate whether the licence holder 'Today FM Sydney Pty Ltd' breached its licence conditions or the industry's code of practice.
The radio station's owner Southern Cross Austereo had said earlier that all profits from advertising for the rest of the year would go into a fund for Saldanha's family. It had said it would make a minimum contribution of 500,000 dollars.
The two radio presenters, Michael Christian and Mel Greig, had said they are 'gutted and heartbroken' over the death of the nurse after their prank call.