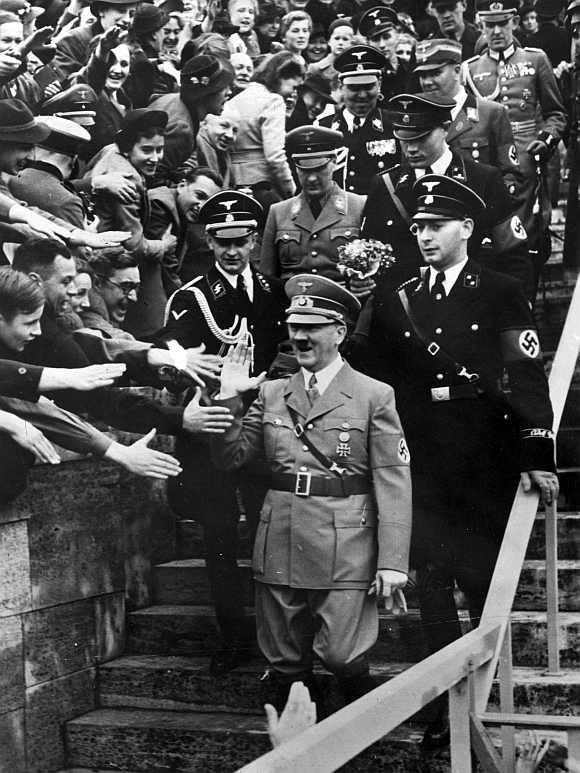 Adolf Hitler did not commit suicide at the end of the second world war but was spirited out of Germany by the Nazis in a massive cover up to make the world fall a victim to "duplicitous deception," a noted British historian has claimed.
Gerrard Williams claims that official records confirming the deaths of Hitler and his wife Eva Braun are seriously flawed as the Russians' failed to announce they had found the body of the infamous dictator.
"I believe that in April 1945 the real Hitler along with Eva Braun were spirited out of the bunker where they escaped. They did not die, we were lied to, we are still being lied to," said Williams, a journalist, author and historian.
The claims, due to be aired in a television expose on Saturday, will blow wide open theories of what happened to the world's most notorious dictator, the Daily Express reported.
The programme claims Hitler did not die at the end of the war and threatens to expose the foundation of post-Second World War history as nothing more than a tissue of "lies", the report said.
Official records hold that shamed in defeat in April 1945 Hitler shot himself in the head in a bunker in Berlin while his wife took a lethal cyanide pill.
But their bodies were swiftly burned with reports confirming their deaths based on what is now claimed to be dubious eyewitness evidence.
"It is supported by eyewitnesses who actually never saw anybody get shot. They never see the Fuhrer and Eva go into his private quarters in the bunker. They see bodies coming out but nobody ever see Hitler and Eva dead," Williams said.
Two innocent lookalikes were murdered with the world falling victim to a 'duplicitous deception', he said. Russians' failure to announce they had found the body of Hitler in 1945 casts serious doubts, he said, adding that 'we have been sold a dummy'.
"There are no bodies reported discovered in 1945 and this is something which amazes me. It's only in 1968 they said we did discover the bodies of Adolf and Eva. It just doesn't make any sense at all," Williams said.
"I am pretty convinced two people probably did die in the bunker at the end of April 1945 but they weren't Hitler and Eva Braun. Two doubles replaced them and it was those who were murdered and their bodies disposed of later," he said.
Williams claimed the Federal Bureau of Investigation never believed Hitler was dead and looked for him around the world.
It is thought Hitler escaped Germany in an elaborate plan coordinated by his private secretary Martin Bormann, the report said.
"And that's it -- end of history, end of Hitler. After these deaths everybody thought this is what's happened. If you tell a lie often enough and loudly enough it becomes the truth, and in this case what the world accepted as the truth is this lie," Williams said.