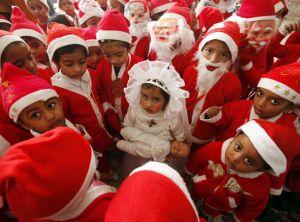 Dravida Munnetra Kazhagam Chief M Karunanidhi has urged Prime Minister Narendra Modi to rein in Hindutva outfits who are making a "mockery of communal harmony" and joined other parties in voicing apprehension that observing Good Governance Day on December 25 could hamper Christmas festivities.
Referring to the alleged statement of Dharma Jagran Samiti to go in for mass conversions in Varanasi, the DMK chief wondered how such a thing could happen in a constituency represented by the prime minister himself.
"The Samiti's announcement of financial inducement of Rs 2 to 5 lakh for Christians and Muslims to embrace Hindu faith in Uttar Pradesh makes a mockery of communal harmony in India," the 91-year-old leader said in a statement.
"If Prime Minister Modi does not intervene and rein in such forces, in future this will become a historical blunder and will be a blemish him."
"Pointing out that the Centre proposed to observe December 25 as "Good Governance Day," he said the HRD Ministry had directed Navodaya Schools under its ambit to hold essay competitions for students that day.
"The Centre has created a piquant situation by this as students cannot celebrate Christmas," he said.
Condemning the purported direction to Navodaya Schools, Tamil Nadu Congress Committee President E V K S Elangovan said this would offend the sensibilities of the minority people.
"The move is to diminish the importance of Christmas," he alleged.
He also demanded withdrawal of the circular.
Marumalarchi Dravida Munnetra Kazhagam chief Vaiko also demanded it be withdrawn.
The central government, meanwhile, clarified in Parliament that schools would be shut on December 25 as usual for Christmas and the essay competitions are online and voluntary.