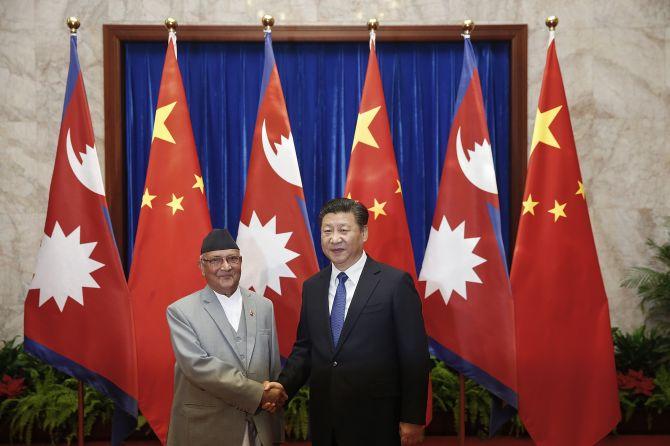 Chinese President Xi Jinping, right, shakes hands with Nepal Prime Minister Khadga Prasad Sharma Oli, left, inside the Great Hall of the People in Beijing on Monday. Photograph: Lintao Zhang/Pool/Reuters

China on Monday agreed to Nepal Prime Minister K P Oli's request to build a strategic railway link between the two countries through Tibet to reduce land-locked Nepal's total dependence on India, as the two sides cemented their ties by signing 10 agreements including a landmark transit trade deal.
Oli, who arrived in Beijing on Sunday on his maiden seven-day visit to China, was given a red carpet welcome by Premier Li Keqiang at the Great Hall of the People. He also called on Chinese President Xi Jinping.
Oli's high-profile visit comes as Nepal seeks to open more supply routes from China amid fears of a repeat of recent nearly six-month long crippling blockade when the Indian-origin Madhesis blocked Nepal's trade-routes with India, throwing normal life out of gear.
During the talks, the two prime ministers made a comprehensive review of bilateral relations and expressed satisfaction over steadily growing relations between the two countries.
'The two sides exchanged substantive views on further strengthening and consolidating mutual trust and understanding as well as promoting mutually beneficial cooperation in various fields,' according to a press release issued by Nepalese foreign ministry.
Trade diversification, cross border connectivity and infrastructure development, cooperation on energy, tourism, finance, education and culture were among the matters that figured prominently during the talks, it said.
During his talks with Li, Oli mooted extension of China's strategic railway link with Tibet further to Nepal.
Briefing the media after Li-Oli talks, Hou Yanqi, deputy head of the Chinese foreign ministry, said: "The Nepalese prime minister wanted to explore two rail lines."
Hou said the government would encourage Chinese firms to look at the internal rail plan and that China was already planning to extend the railway from the Tibetan city of Shigatse to Gyirong on the Nepal border.
"Of course, a further extension from Gyirong is an even long-term plan. It's up to geographic and technical conditions, financing ability. We believe that far in the future the two countries will be connected by rail," she said.
The two countries sealed 10 agreements, including the much-publicised transit trade treaty which will end Nepal's total dependency on Indian sea ports for third-country trade.
The other agreements included a feasibility study on the establishment of a Free Trade Agreement, China's assistance to build a new airport and a border bridge.
The other agreements included a treaty on economic and technical cooperation to build a Regional International Airport Project at Pokhara, Nepal's famous tourist site.
China and Nepal also decided to initiate a feasibility study on Chinese assistance to Nepal for exploration of oil and gas resources.
Ahead of his visit, Oli, 64, has told state-run Chinese media that Transit and transport agreements will be signed with China and also Nepal is eager to utilise sea ports of China, in an apparent move to reduce dependence on India.
Commenting on Oli's visit, Chinese foreign ministry spokesperson Hua Chunying played down concerns that the closer China-Nepal ties will affect India-Nepal ties.
"China, India and Nepal form a community of shared destiny. Our work there (Nepal) can help to work for common development. Stable development in Nepal serves both China and India. We hope we can have positive interactions in this field to achieve win-win results," she said.
Oli's request for two railway links with China after the Communist giant has been successfully operating the world's highest railway line to Tibet. The 1,956 km-long railway line was operationalised in 2006.
China had recently announced plans to build a second railway link with Tibet.
After the Qinghai-Tibet Railway was extended from Lhasa to Shigatse in Tibet in 2014, it was expected that the construction of railways connecting Shigatse with Gyirong county, bordering Nepal, and with Yatung county bordering India and Bhutan, would start during the 13th Five-Year Plan period (2016-20), state-run Global Times had quoted a strategic think tank as saying.
Meanwhile, an article in state-run media, coinciding with Oli's visit said Nepal should not be a bargaining chip between India and China.
'New Delhi is now showing how difficult it is to imagine China replacing its influence in Kathmandu. But Beijing has never asked Nepal to side with it. In the meantime, Oli has also publicly announced that his country is not playing the 'China card' against India,' the article in Global Times said.
'New Delhi should wake up to the fact that Nepal is a sovereign country, not a vassal of India,' it said.
'Even though India tends to consider China as a geopolitical rival, and there are still border disputes between the two countries, dealing with those puzzles should not come at the cost of Nepal's interests. Kathmandu has the right to choose the development partners that maximise its national interests,' it said.
'Sandwiched between the two giant neighbours, keeping good relationships with both China and India is the only sound choice for Kathmandu, as well as for regional harmony.
'Therefore, instead of being forced into becoming a strategic barrier against China, Nepal should be better treated and act as a bridge between Beijing and New Delhi,' the article said.