After 4,764 party delegates formally backed her, the former US First Lady tweeted, "This moment is for every little girl who dreams big."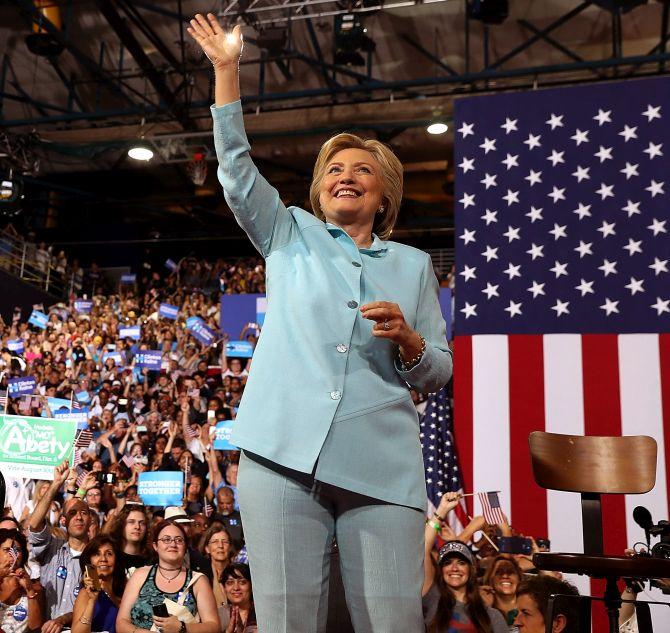 IMAGE: Democratic presidential candidate former Secretary of State Hillary Clinton makes history with becoming the first woman to lead a major party in the US presidential race. Photograph:

Justin Sullivan/Getty Images
Making the 'biggest crack' in a glass ceiling, Hillary Clinton on Wednesday scripted history by winning the Democratic presidential nomination to become the first woman flag-bearer of a major United States party as she set up an epic clash with Republican rival Donald Trump.
Clinton, 68, who has been the secretary of state, first lady and a senator from New York, secured her nomination at the Democratic National Convention in Philadelphia after a majority of the 4,764 party delegates formally backed her.
If elected in the November 8 polls, Clinton would become America's first female president and commander-in-chief.
In an electrifying end to the Democratic convention's second night, Clinton appeared by video from New York, saying, "What an incredible honour that you have given me and I can't believe we just put the biggest crack in that glass ceiling yet."
"Thanks to you and to everyone who's fought so hard to make this possible," Clinton told thousands of her supporters at an indoor stadium. Many of her supporters were seen crying.
As she spoke, her image appeared over a breaking glass ceiling. "This is really your victory. This is really your night. And if there are any little girls out there who stayed up late to watch, let me just say I may become the first woman president but one of you is next," she said.
Her rival from the primaries, Bernie Sanders moved a resolution for her nomination when the roll call got to his home state of Vermont -- sending out a vital message of unity for a party struck by deep divisions.
"I move that Hillary Clinton be nominated as the Democratic Party's presidential candidate of the United States," Sanders said as he called for suspension of rules to pave the way for unanimous nomination of Clinton as the party's presidential candidate.
Moments later, the Democratic delegates nominated Clinton as the party's presidential candidate, setting up a high-stakes showdown with 70-year-old Trump.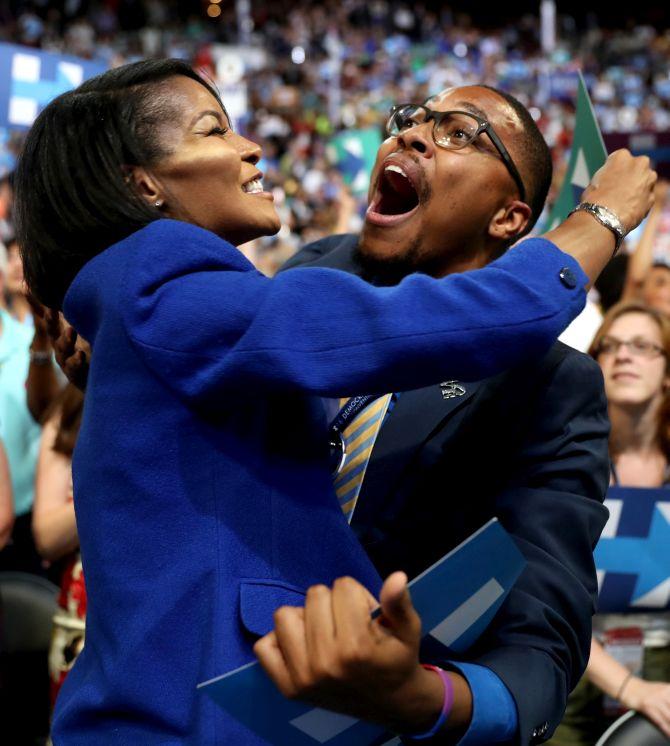 IMAGE: Delegates celebrate after formally nominating Democratic presidential candidate Hillary Clinton on the second day of the Democratic National Convention. Photograph:

Joe Raedle/Getty Images
'This moment is for every little girl who dreams big. #WeMadeHistory,' tweeted Clinton.
'Stronger together,' she said in another tweet.
Making a strong case for his wife Hillary's presidency bid, charismatic former US president Bill Clinton narrated his personal story with 'a girl' he met in 1971 to emphasise that she is 'uniquely qualified' for the top job and the 'best change-maker' he has ever known.
Clinton's nomination was proposed by Congresswoman Barbara A Mikulski, the first Democratic woman elected to the Senate, and the first woman to chair the powerful Senate Committee on Appropriations.
"It is with a full heart that I am here today as we nominate Hillary Clinton to be the first woman president," she said.
"Many of you have broken barriers. You were the first to go to college. You were the first to start a business. Maybe the first to be a citizen. But you knew when you broke a barrier you didn't do it for yourself. You did it so others would not have to face them again. That's what Hillary wants to do. She wants to break down all the barriers to opportunity," Mikulski said.
Legendary civil rights leader and Congressman John Lewis seconded Clinton's name as the Democratic presidential nominee.
"Eight years ago, our party nominated and elected the first person of colour to ever serve in the White House not just for one, but two terms. Tonight, we will shatter that glass ceiling again. We're the party of tomorrow, and we will build a true democracy in America," Lewis said.
Lewis talked about Clinton in glowing terms, saying she has dedicated her life to public service and building a better America.
"I have known Hillary Clinton for many years. She is one of the most qualified candidates to ever run for president. She is a leader, sometimes sailing against the wind to break down the barriers that divide us. She's smart, just smart. She could have done anything with her life, but she decided long ago she didn't want to just do well, she wanted to do good," he said.
IMAGE: A delegate holds up a sign in support of Democratic presidential candidate Hillary Clinton on the second day of the Democratic National Convention. Photograph:

Drew Angerer /Getty Images
Clinton is scheduled to deliver her acceptance speech on Thursday. Last week, she selected Virginia Senator Tim Kaine as her running mate.
As the first lady she had launched several key initiatives in health care and women's rights.
A proponent of clean energy, Clinton is known for being a strong advocate of Indo-US ties.
As a New York senator, she was instrumental in the launch of the Senate India Caucus -– the only country-specific Senate Caucus, and was its founding co-chairman.
Clinton also has several Indian-Americans in key positions in her campaign including Huma Abedin, Neera Tanden, Shefali Razdan Duggal and Aditi Hardikar.