With Hillary Clinton's email saga getting murkier, Donald Trump has alleged that the former secretary of state set up an illegal server for the purpose of shielding her "criminal conduct" from public and asserted that the action was "willful, deliberate and purposeful".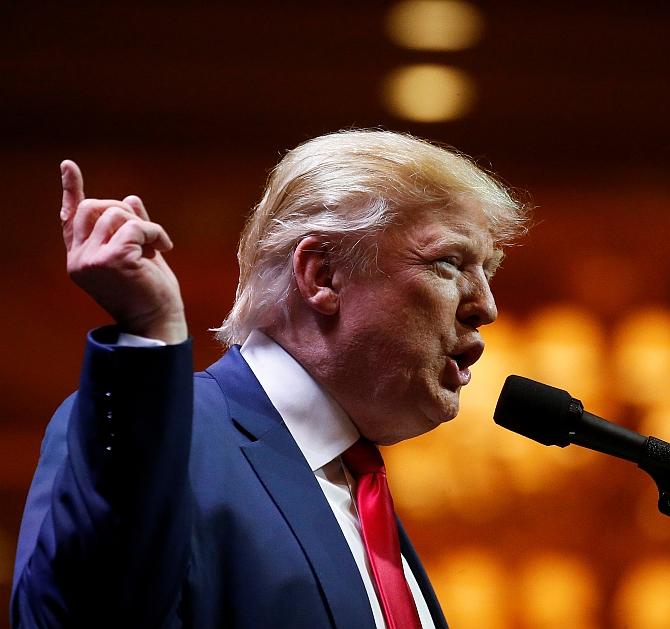 "As you've heard, it was just announced on Friday that the FBI is reopening their investigation into the criminal and illegal conduct of Hillary Clinton. Hillary has nobody but herself to blame for her mounting legal problems," the Republican presidential candidate said in Las Vegas, Nevada.
"Her criminal action was willful, deliberate, intentional and purposeful. Hillary set up an illegal server for the obvious purpose of shielding her criminal conduct from public disclosure and exposure. She set up this illegal server knowing full well that her actions put our national security at risk and put the safety and security of your children at risk," he said at an election rally.
To cover up her "crimes", Trump alleged, Clinton bleached and deleted 33,000 emails after receiving a Congressional subpoena.
Referring to the reports that the FBI has found more than 650,000 mails from a laptop that was shared by her close aide Huma Abedin and her estranged husband Anthony Weiner, Trump said they have just found a lot of emails.
"We never thought we were going to say thank you to Anthony Weiner. She made 13 phones disappear, some with a hammer. She lied to Congress under oath. She lied to the FBI many times and then two boxes of email evidence just recently went mysteriously missing. Then you have the WikiLeaks revelations which have exposed criminal corruption at the highest levels of our government," the 70-year-old business tycoon asserted.
"Hillary put the Office of Secretary of State up for sale and if she ever did get the chance, which we're not going to let her have, she'd put the Oval Office up for sale also. You have no doubt about that. Yet now it's reported that the Department of Justice is fighting the FBI. That's because the Department of Justice is trying so hard to protect Hillary Clinton," he alleged.
"They didn't try to protect our Generals. They didn't try to protect a lot of other people. How can the Attorney General be involved in this case or tell the FBI what to do when the Attorney General violated sanctity of law by secretly meeting with Bill Clinton, the husband of the possible target of the investigation and a possible target himself, in an airplane on the tarmac in Arizona?" he questioned.
Trump said because of "this highly-inappropriate" meeting at best, the Attorney General took herself essentially out of the case and put FBI Director James Comey in charge of making decisions.
"So why is she now allowed to fight so hard to get someone who is so obviously guilty on so many different fronts off the hook? In fact, it was publicly reported that sources close to Hillary Clinton said, and she actually I think said it to the papers, that she was thinking of reappointing Attorney General (Loretta) Lynch," Trump said.
"She was thinking, she said it; I mean it was a statement she made. And effectively, I guess you'd call that a bribe, wouldn't you? Wouldn't that be called a bribe? How could she say they're going to make a decision on her and you're talking about you're going to reappoint? She said it publicly, I believe," Trump alleged.
"When I heard it I found it a little bit hard to believe that she'd say that. This is what we mean when we say the system is rigged, it's rigged. What makes us exceptional is that we are a nation of laws and that we are all equal under those laws. Hillary's corruption shreds the principals on which our nation was founded.
"When the powerful can get away with anything because they have the money and the connections to rig the system, then the people lose hope and confidence in the future of their country," Trump said.
Image: Republican presidential nominee Donald Trump speaks during a campaign rally at the Venetian Hotel in Las Vegas, Nevada, US. Photograph: Carlo Allegri/Reuters
© Copyright 2022 PTI. All rights reserved. Republication or redistribution of PTI content, including by framing or similar means, is expressly prohibited without the prior written consent.