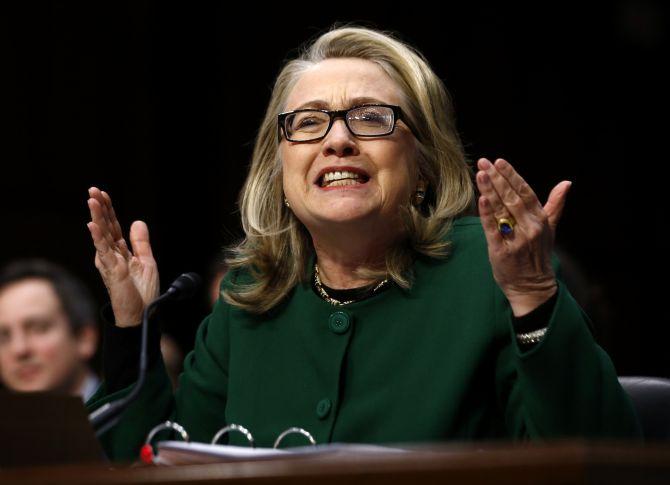 Democratic front-runner Hillary Clinton will face her first major political test on Wednesday when she shares the stage with four other aspirants at the party's inaugural debate of the 2016 presidential campaign.
All opinion polls indicates that the former Secretary of State leads other Democratic presidential candidates, but in a warning sign for her, another presidential candidate Vermont Senator Bernie Sanders appears to have been closing the gap and has been gaining popularity across the country.
The three other Democratic presidential candidates sharing the stage in Las Vegas with Clinton and Sanders would be Martin O'Malley, Jim Webb and Lincoln Chafee.
All three of these would get an opportunity to challenge Clinton's formidable campaign. But political analysts say chances are slim.
All eyes would be on Clinton, who has launched a formidable presidential campaign for the second time.
In her first attempt in 2008, Clinton lost to Barack Obama during the Democratic Party's primary.
CNN is hosting the first Democratic Party presidential debate.
Vice President Joe Biden, may make a last minute announcement to enter the presidential race -- which is being highly speculated upon for quite some time.
However, chances for this were very slim for the first presidential debate even as CNN has kept an extra lectern, just in case it needs ones.
An impressive performance by Clinton would help her seal the frontrunner position, or else Sanders might further close the lead, experts said ahead of the debate.
"Bigger goals for Clinton include defining her campaign and showing Democratic voters why they should pick her," The Hill reported.
Ahead of her crucial debate, a latest Fox news poll showed that Clinton remains the front-runner among Democratic primary voters (45 per cent), with Bernie Sanders (25 per cent) and Biden (19 per cent) behind her by about 20 percentage points.
That's almost identical to where things stood three weeks ago, the report said.
The Washington Post said the debate is also a big moment for Sanders. The debate, it said, offers Sanders a long-awaited chance to go toe-to-toe with Hillary Rodham Clinton and his biggest opportunity yet to take his message to a national audience.
"But the two-hour encounter on CNN poses as many potential risks as it does rewards," it noted.
"While Sanders has been drawing massive crowds on the campaign trail, many Democratic voters still don't know much about him -- and some aren't sure what to make of the 'democratic socialist', label that the 74-year-old senator attaches to himself," The Post said.
US President Barack Obama is expected to watch the presidential debate, the White House said.
This is a break from the last two Republican presidential debate, which Obama did not watch.
White House Press Secretary Josh Earnest said this is an opportunity for candidates to lay out their vision before the American public.
"I wouldn't be surprised if the President catches part of the debate tonight. I don't think that he will watch it wire to wire. There is some pretty good playoff baseball tonight, so I would anticipate that he may be doing a little channel surfing," Earnest said.
"It (debate) is a good opportunity for the American people and voters to carefully consider the platform on which each candidate is running, and the president welcomes a robust, healthy vigorous debate about the many opportunities and challenges that are facing the country right now," Earnest said.