US president Barack Obama gave his final State of the Union address on Tuesday, perhaps the last opportunity of his presidency to sway a national audience and frame the 2016 election.
Here are the highlights: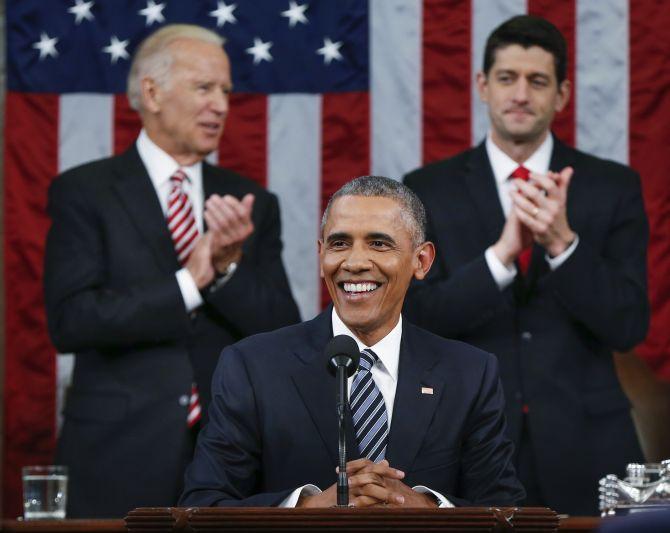 >> I want to focus on our future. Let's talk about the future, and four big questions that we as a country have to answer -- regardless of who the next President is, or who controls the next Congress.
>> The United States of America, right now, has the strongest, most durable economy in the world.
>> I'll keep pushing for progress on immigration, gun violence, equal pay, paid leave, raising the minimum wage. We secured the freedom in every state to marry the person we love.

>> We did not, in the words of Lincoln, adhere to the 'dogmas of the quiet past.' Instead we thought anew, and acted anew.

>> I don't want to talk just about next year. I want to focus on the next 5 years, 10 years, and beyond. How can we make our politics reflect what's best in us, not the worst.

>> I hope we can work together this year on some bipartisan priorities like criminal justice reform.

>> Sixty years ago, when the Russians beat us into space, we didn't deny Sputnik was up there. We didn't argue about the science, or shrink our research and development budget. We built a space program almost overnight, and twelve years later, we were walking on the moon.

>>That spirit of discovery is in our DNA. We're Thomas Edison and the Wright Brothers and George Washington Carver. We're Grace Hopper and Katherine Johnson and Sally Ride. We're every immigrant and entrepreneur from Boston to Austin to Silicon Valley racing to shape a better world. And over the past seven years, we've nurtured that spirit.

>>We've protected an open internet, and taken bold new steps to get more students and low-income Americans online. We've launched next-generation manufacturing hubs, and online tools that give an entrepreneur everything he or she needs to start a business in a single day.
>> Food Stamp recipients didn't cause the financial crisis. Recklessness on Wall Street did.
>> When it comes to every important international issue, people of the world do not look to Beijing or Moscow to lead -- they call us.
>> If you doubt America's commitment-or mine-to see that justice is done, ask Osama bin Laden. When you come after Americans, we go after you. It may take time, but we have long memories, and our reach has no limit.
>> I will keep working to shut down the prison at Guantanamo. It's expensive, it's unnecessary, and it only serves as a recruitment brochure for our enemies.
>> I believe in change because I believe in you, the American people. That's why I stand here confident that the State of our Union is strong.
Image: US President Barack Obama is applauded by House Speaker Paul Ryan and Vice President Joe Biden while delivering his final State of the Union address to a joint session of Congress in Washington, DC. Photograph: Evan Vucci/Pool/Reuters