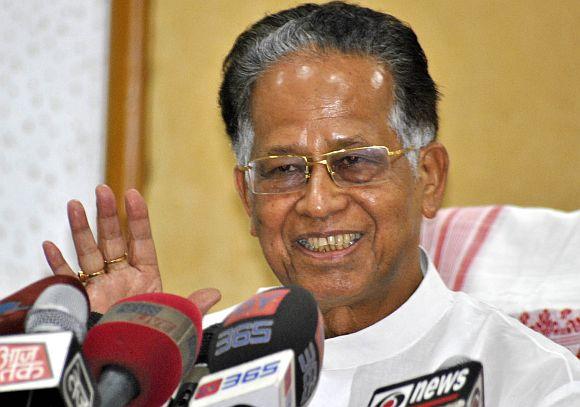 Getting ready to fight the next assembly election in Assam in 2016 on the 'U-turns' on state issues made by the Bharatiya Janata Party government in the Centre, the ruling Congress government in Assam has brought out a handbook for its party workers highlighting the 'failures' of the Narendra Modi government to fulfil promises made to people of the state.
Unveiling the handbook, which will be distributed through the 24,280 booth committees of the party, Assam CM Tarun Gogoi said, "It is a document of the failure of the Narendra Modi government. The promised 'acchee din' has not materialised."
Alleging that the Modi government has failed to keep its pre-poll promises to the people of Assam, Gogoi cited that BJP government's made a U-turn and support to the land swap deal with Bangladesh after coming to power after Lok Sabha polls.
He also pointed to the problems facing the Lower Subansiri Hydel Power Project.
He also criticised Modi of failing to keep his promise that Assam will be free of all 'illegal foreigners' from May 17 last year, if the BJP came to power.
"The BJP government has not only not done anything for the state, they have also cut allocation under Central schemes for the state, suspended the North East Industrial and Investment Promotion Policy and stopped fresh recruitment to government jobs, among others," Gogoi said.
Assam Pradesh Congress Committee president Anjan Dutta, accusing the Modi government of doing a U-turn on all issues, said, "There is no Modi wave blowing any longer. The so-called Modi-tsunami is leaving a trail of destruction like all tsunamis."
He said the handbook was an attempt by the Congress to make the people aware how their trust on the BJP and its promise of deliver has been betrayed.
The Congress will be seeking the people's mandate for the fourth consecutive term in power in Assam in the next assembly elections, apparently an uphill task for the party as on date given the drubbing at received in the last Lok Sabha elections in the state at the hands of the BJP and the All India United Democratic Front.