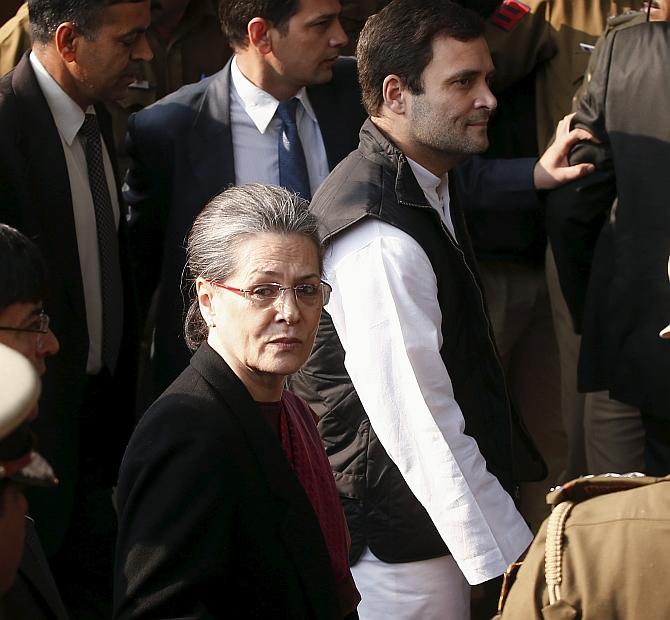 The Supreme Court on Thursday said it will consider the pleas of Congress President Sonia Gandhi and Rahul Gandhi that their appeals against the Delhi high court verdict, refusing to quash summons issued to them in the National Herald case, be heard on Friday.
A bench comprising Chief Justice T S Thakur and Justice R Banumathi assured senior advocate Kapial Sibal, representing the Gandhis, by saying "we will look into it".
Sibal said Subramanian Swamy, the BJP leader who has filed the criminal complaint against the UPA Chairperson and five others, had earlier agreed to February 12, the scheduled date of hearing, and now he is saying he is not available till February 19.
The Gandhis and other co-accused may now have to appear again before the magisterial court here on February 20 if they fail to get any interim relief, on the issue of their personal presence, from the Apex court.
Earlier, the Congress president, her son Rahul, Suman Dubey and Sam Pitroda had filed appeals in the Apex court against the high court verdict in the case.
The high court had on December 7, 2015 not only refused to quash the summons issued to the Congress leaders, but had also made scathing observations on their "questionable conduct" regarding how they took control of the publication.
Subsequently, the Gandhis and others had appeared before a Patiala House court on December 19 last year, when they were granted bail.
The high court, while refusing the plea of Gandhis and others, had said, "Questionable conduct of petitioners needs to be properly examined at the charge stage to find out the truth and so, these criminal proceedings cannot be thwarted at this initial stage."
Along with the Gandhis, five other accused -- Suman Dubey, Moti Lal Vora, Oscar Fernandes, Sam Pitroda and Young India Limited -- had challenged the summons issued to them by a trial court on a complaint by Swamy against them for alleged cheating and misappropriation of funds in taking control of the now-defunct daily.
Swamy had accused Sonia, Rahul and others of conspiring to cheat and misappropriate funds by just paying Rs 50 lakh by which YI obtained the right to recover Rs 90.25 crore which the AJL had owed to the Congress party.
Sonia, Rahul, Vora (AICC treasurer), Fernandes (AICC general secretary), Dubey and Pitroda were summoned under sections 403 (dishonest misappropriation of property), 406 (criminal breach of trust) and 420 (cheating) read with section 120B (criminal conspiracy) of the IPC.
The trial court had on June 26, 2014 asked them to appear before it on August 7, 2014 but the order was stayed on August 6 by the Delhi high court which on December 7, 2015 vacated the stay by rejecting plea to quash the complaint and summons.
According to Swamy's complaint, all of them were directors of Young Indian Limited, a company that was incorporated in 2010 and which took over the "debt" of Associated Journals Limited, the publisher of National Herald.