With Parliament virtually paralysed due to disruption by the Congress, the Bharatiya Janata Party on Tuesday attacked it saying it was using the National Herald case to "harm" national interest and holding the country's development "hostage" to its "selfish" political goal.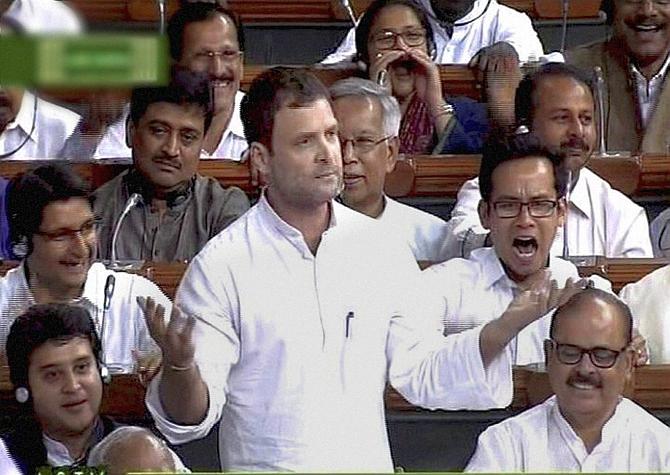 The BJP parliamentary party voiced concern over the way the main opposition party was creating "obstruction" in the path of development and said it would be "suicidal" for it.
Briefing the media after the meeting, Minister of State for Parliamentary Affairs Mukhtar Abbas Naqvi said the BJP has issued a whip, asking its members in both the Houses to be present for the remainder of the Winter session during which the government hopes to push through a host of Bills even as prospect for it appears dim.
Like last year, the government and party will also celebrate former Prime Minister Atal Bihari Vajpayee's birth day on December 25 as 'good governance day' during which a host of events will be held, he said.
The parliamentary party was told that a number of programmes aimed at empowering youth, including skill development projects in every Lok Sabha constituency, will be launched on January 12, the birth anniversary of spiritual guru Vivekananda.
Banks and public sector units will pitch in and the aim behind it will be to give a boost to job growth, Naqvi said.
The party MPs also decided to contribute Rs 10,000 each for Chennai flood relief, he said.
"The parliamentary party expressed its concern over the negative politics of the Congress and its attempt to obstruct the country's development. It is doing so for its own narrow and selfish political interest and it can be suicidal for Congress.
"The National Herald case is being used to harm national interest. Congress should see to it that the case does not overshadow national interest," Naqvi said.
Asked about CBI's raid at Delhi Chief Minister Arvind Kejriwal's office for which he has blamed Modi, Naqvi said it had become a "fashion" to blame the prime minister for everything.
"It's Modi-phobia. If somebody has pain in stomach, he will claim that he has got the disease from PMO," he said.
At the meeting, a booklet titled 'National Herald case: family greed and national blackmail' was also distributed among the BJP MPs.
Parliamentary Affairs Minister Venkaiah Naidu told MPs that the government will continue to hold talks with opposition parties for the passage of bills, including GST.
The BJP accused the Congress of indulging in "fake fights" over "manufactured issues and lies" to obstruct the functioning of Parliament.
On Vajpayee's birthday, party leaders were asked to hold blood camps, distribute warm clothes in Dalit areas and carry out other welfare activities, Naqvi said.
Prime Minister Narendra Modi could not attend the meeting due to his prior engagements. Top party leaders, including Rajnath Singh, Arun Jaitley and L K Advani, participated in it.