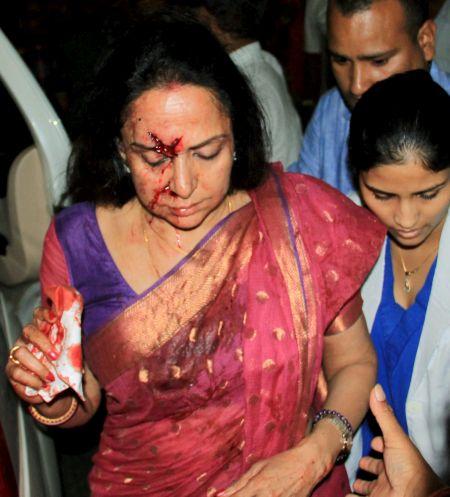 Bharatiya Janata Party MP Hema Malini, who was discharged from a Jaipur hospital on Saturday after her Mercedes collided with another car leaving a child dead and injuring five others, including the actress, has offered financial assistance to families of the victims.
The 66-year-old actor-politician reached Mumbai on Saturday by a chartered plane, accompanied by her daughter Esha Deol and Deol's husband Bharat Takhtani.
Talking to reporters outside Hema's residence in Juhu, Esha said, "My mother will help the families of victims. She is doing this not because she is a neta (leader) but because she is a good human being as well."
On Thursday night, the car in which Hema Malini was travelling rammed into another car coming from the opposite direction in Dausa district of Rajasthan, killing a four-year-old girl and leaving five others injured, including the veteran actress.
"Jab accident hua tab mummy ki jo condition thi wo kisi aur ke baare me kaise soch sakti thi... koi bhi nahi soch pa raha tha...par hame afsos hai us pariwar ne apna khoya hai (When the accident took place, my mother as well as the family was not in a condition to comprehend anything but we are sad that a family has lost a dear one)," Esha said.
"When the accident happened she was asleep. She had told everyone to wear their seat belts. But achanak picche se jor ka dhakka laga (suddenly we felt jolt from the rear side)," she said.
"The accident was very bad.. It was traumatic so no one was in a state to talk... or think anything," she said.
Esha informed that Hema has been advised rest for now.
"Doctors have asked her to take rest at home. She is a bit better now... she is fine. She wants to rest now. She is not meeting anyone. She will relax for a day or two and thenshe will meet (people)," she added.
The actress, who was discharged from hospital on Saturday morning, had undergone a surgery for her wounds at the Fortis hospital on Friday. She was also treated for a minor fracture on her nose.
Mahesh Chand Thakur, who was driving Hema's car at the time of the accident, has been arrested.