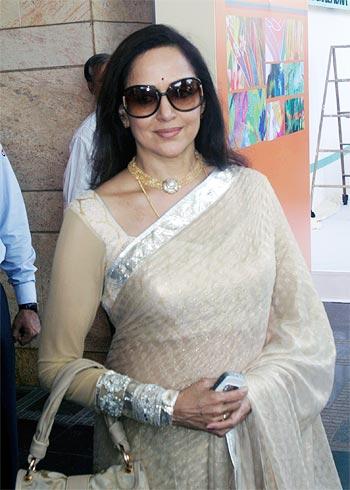 Actor-politician Hema Malini on Thursday sought to defend her remarks that widows from West Bengal and Bihar should not crowd Vrindavan in Uttar Pradesh, saying she said this in the context of how they were being ignored in their home states and government not doing enough for them.
The 65-year-old Bharatiya Janata Party Lok Sabha MP also said she had not mentioned anything that she should be "ashamed of".
Hema Malini, during a visit to her parliamentary constituency Mathura, had stoked a potential controversy when she said that Vrindavan, a holy town which is home to thousands of destitute women, should not be crowded by widows from other states like West Bengal and Bihar.
She had said that there are already 40,000 widows in Vrindavan, which is part of her constituency, and there was no room to accommodate more.
The actress on Thursday defended her previous statement in a series of tweets, saying no one listened to her "actual interview" to the media.
"I haven't said anything that I should be ashamed of. I stand by my statement that they should be allowed to live with dignity. Sad state for a country once known for the respect shown to women. This is what I was trying to point out," she tweeted.
"It is traumatic to see these poor widows begging on the streets even for their daily existence. Have all of you ever witnessed their plight? Of course I intend doing what I can to improve their condition but Vrindavan has a space limitation too. State govt too should contribute," she added.
The actress said she had done nothing wrong by saying that "sons and daughters cannot discard their duty and cannot bundle them onto a train & forget about them".
"For no fault of theirs, they are thrown on the streets and are compelled to beg to survive. Is ths fair? Do you think these old women deserve this fate? Also most are from West Bengal, Bihar and Orissa. My request was to these people to have a more humane approach and look after these poor widows properly.
She said that awareness should be created in states from where the widows belonged to.
Pointing out that most of these women were "abandoned by family and put on trains to Vrindavan without any money", Hema Malini said most of them find jobs as maids or turn to begging.
"Younger ones are also exploited and then abandoned to their fate. Out of the 5000, only 1500 have a proper roof over their heads. The rest are on the streets, destitute and desperate. Of course, we are all Indians first, and have a duty towards the old and infirm in our country."
"I met and spoke to then West Bengal Chief Minister Jyoti Basu 20 years back regarding this issue. He said that he will give them roof and 300 Rs per month. I did a survey on widows and each one of them had said that they don't want to go back to Bengal," she said.
"If she (Hema) thinks that they are disturbing the people of Vrindavan then what is she doing. She has been visiting temples for last 10 years and disturbing common public there," said Giri.
She said that her NGO will initiate a campaign to ensure voting right for each widow of Vrindavan now. "We are empowering them. Rather than giving money, we should make them independent. We will do a big campaign to make each widow a voter and we will also tell them not to get afraid.
Now since whatever Hema has said, they (widows) will be pushed by local administration. They already take their share (hafta) from them and do not even hesitate to beat them by lathis," she said.