Dana Majhi, a poor tribal from Odisha who drew sympathy after he had to walk over 10 km carrying his dead wife on shoulder, is now a millionaire with donations and help pouring in, including from Bahrain prime minister.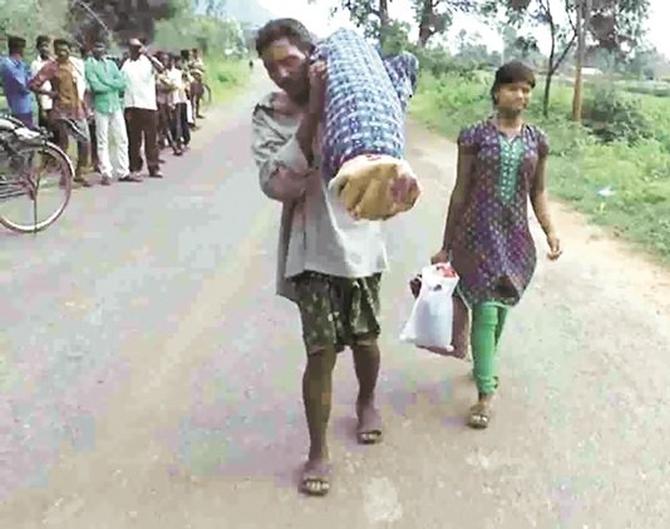 IMAGE: On August 24, Dana Majhi, a resident of Melghar village in Kalahandi district, had carried his wife's body on his shoulder and walked 10 km accompanied by his minor daughter after allegedly being denied a hearse by the district hospital. Photograph: ANI
A little bewildered by the turn of events and the sudden attention on him and one who candidly says he does not know what one lakh means, Majhi, who hails from remote Melaghar village in Kalahandi district, has seen his kitty swell to Rs 15 lakh. But he sorely misses his wife.
After the incident that sparked an outrage and pushed him into limelight, Majhi's three daughters are being provided free education by Kalinga Institute of Social Sciences at its residential school in Bhubaneswar.
The latest contribution to Majhi's kitty was an amount of Rs 8.87 lakh, a gift from Prime Minister of Bahrain Prince Khalifa Bin Salman Al Khalifa. He collected a cheque for the amount from officials of Bahrain embassy in Delhi on Thursday.
Majhi told reporters that he would deposit the money in the bank for his three daughters for their future use.
Majhi, who has been getting help from many quarters ever since August 24 when he walked carrying his wife's body on his shoulder from a hospital as he was unable to get a hearse, said he was told that Bahrain prince donated the money after learning about his tragedy.
He had earlier received an assistance of Rs 5 lakh and Rs 10,000 every month for education of his daughters from Sulabh International.
The Sulabh International made fixed deposits in Majhi's bank account which will mature five years hence on September 3, 2021.
"Dana Majhi will get a sum of Rs 7,33,921 after five years at the interest rate of 7.5 per cent," a bank official said.
Founder of Sulabh International Dr Bindeshwar Pathak sent a representative of his organisation to meet Dana Majhi.
"Dr Pathak was moved over the plight of Dana Majhi and made this donation to help the tribal man," said Vinod Sharma of Sulabh International.
Sharma handed over the Fixed Deposit paper worth Rs 5 lakh and Rs 10,000 cash to Dana Majhi at his Melghar village.
A diamond merchant of Gujarat has also donated an amount of Rs two lakh to Majhi, who is always seen in a wrinkled shirt and a folded lungi and lives in the same fragile thatched house in the inaccessible village.
In a major support to the poor tribal, Bhubaneswar-based KISS is providing education to his three minor daughters.
Founder of KISS Achyuta Samanta said as per advice of the Ambassador of Bahrain the amount gifted by their prime miniser would be in fixed deposits in the name Majhi's daughters.
Incidentally, two representatives from KISS had accompanied Majhi to Delhi on his maiden air travel to collect the cheque from Bahrain embassy as he had not even seen the state capital of Bhubaneswar earlier. Expenses for his Delhi visit were borne by KISS.
Samanta decided to take responsibility for the education of Maji's three daughters (Chandini-12, Chauli-10 and seven-year-old Sonai) education after many tribal organisations in Kalahandi district sought his assistance.
The tribal representatives from the district also requested KISS authorities to open a branch of the institute in Kalahandi. A branch of KISS will start functioning in Kalahandi from coming academic year, KISS authorities hinted.
Majhi has also got Rs 80,000 from the state government which has also assured him a pucca house under the Pradhan Mantri Awas Yojana and inclusion under the National Family Benefit Scheme.