A 75-year-old French actor has alleged she is being held "hostage" in her house at Calangute in North Goa since earlier this week over a property dispute and finds herself in a "dangerous situation".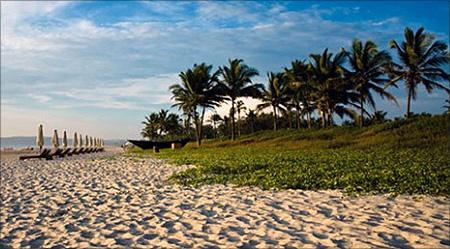 IMAGE: Representational image.
Photograph: Courtesy, Goa Tourism
The Goa police have expressed reluctance to intervene in the matter, saying the dispute related to the house is civil in nature and is being heard by a court.
In a video released to the media on Thursday, actor Marianne Borgo has claimed she is in a "scary and dangerous situation" at her residence in Calangute, a beach town near Panaji which is popular with tourists.
People staking claim to her property have disconnected electricity and water connections to her home and she has been forced to live in the dark, she said.
The actor alleged she is being held "hostage" in the house for the last three days.
Borgo said she had bought the house for "happiness, peace and for retirement", but the last few days had been horrendous.
One of Borgo's friends said the septuagenarian actor had filed a case for injunction in the trial court to support her legal claim to the house that she bought in 2008 from a lawyer, Francisco Sousa, who has since died.
The main gate of the house has been blocked and no one except the maid is being allowed to enter the premises, she said.
The actor's lawyer, Benny Nazarenth, said the matter is sub judice and pending before the civil court in Mapusa town.
Meanwhile, the Calangute police have said they have a limited role to play in the matter as it is being heard by the court.
"Whenever she (Borgo) has called for help, police teams have rushed to the spot. But the police do not have any role to play in a matter which is essentially civil in nature," inspector Dattaguru Sawant of the Calangute police station said.
Trained at the Paris-based Centre d'Arte Dramatique and Conservatoire National d'Arte Dramatique (National Academy of Dramatic Arts), Borgo has worked extensively in films, television and theatre across Europe and India.
Her credits include the original The Bourne Identity, A Little Princess, and Franco-American rom-com/drama Le Divorce alongside Kate Hudson, Glenn Close and Stephen Fry.
She was a recurring character in the French thriller series Profilage, and most recently led in the Indian production Danny Goes Aum.
© Copyright 2023 PTI. All rights reserved. Republication or redistribution of PTI content, including by framing or similar means, is expressly prohibited without the prior written consent.