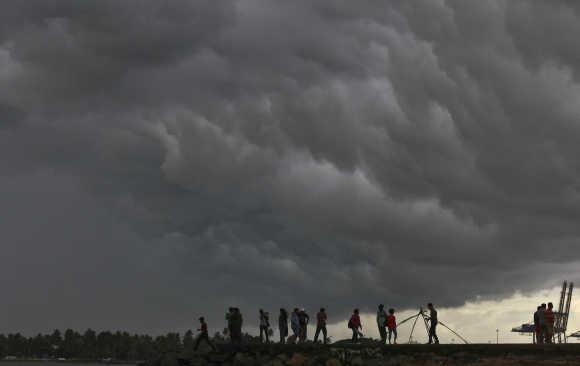 Over 800 tourists have been stranded at Havelock Islands in the Andamans due to heavy rains with the Navy pressing into service four ships on Wednesday to evacuate them.
Heavy overnight rains have disrupted normal life in the island with a flood-like situation in north and middle Andamans.
While officials have put the number of tourists stranded at 800, the tour operators said 1,200 tourists are stuck. Mobile and Internet connectivity have also been snapped in many areas.
"More than 800 tourists are stranded in Havelock Island," Chief Public Relation Officers Defence S S Birdi said.
Indian Naval Ships Bitra, Bangaram, Kumbhir and Landing Craft Utility 38 have been deployed for evacuation, which has not yet begun because of 'unfavourable conditions'.
The sudden evacuation mission was initiated at the request of the Andaman and Nicobar disaster management, which speculates that a 'cyclonic storm' might strike Havelock, an island about 40 km from the state capital Port Blair, a Navy official said.
"Ships are waiting outside harbour. Adequate food, fresh water, medicines and doctors besides divers and local administration personnel being ferried on board to provide succour and relief," the official said.
The ships, which had departed Port Blair at 3.15 am, will ferry the stranded tourists back to Port Blair.
Havelock is one of the populated islands in the Andaman group.
Image for representation only.