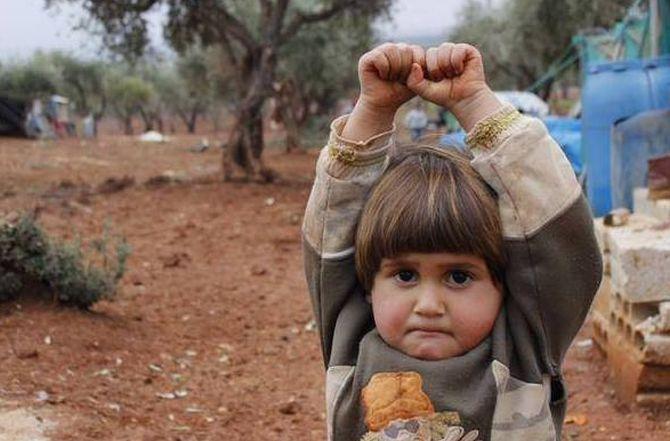 This image tweeted by photojournalist Nadia AbuShaban bears witness to the trauma that children undergo in war torn countries like Syria.
The tweet, which has been shared nearly 10,000 times and had the social media world scramble to discover who the little boy was, shows a horrified child holding his hands above his head as if surrendering.
The four-year-old, Adi Hudea, is said to have mistook the camera for a machine gun.
The origin of the photo though unconfirmed is believed to have been taken by photojournalist Osman Sağırlı in 2012 and was published in a Turkish newspaper.
The photo caption in the newspaper describes the child's fear when he faced the camera.
A translation of the newspaper excerpt said:
'His face suddenly drops. He squeezes his bottom lip between his teeth and gently lifts up his hands. Where he remains like that without a word. It is not exactly easy to cheer up the child who thought the camera was a machine gun about to strike him.
Adi Hudea, only four years old, lost his father in the Hama bombing. He went to Camp Atmen on the border of Syria/Turkey with his very nervous mother and three siblings.'
The photograph has evoked strong reactions on Twitter:
Nirvikar Singh: @NadiaAbuShaban @saikatd Shame on Humanity , UN and our so called Leaders of the free world !!
Sarveshi Shukla @Sarveshi @amelscript @tavleen_singh @NadiaAbuShaban this made me tear up!how can this not melt the warmongers
Youssef Kobo @Youssef_Kobo The fear in this child's eyes is daunting Our ineptitude & apathy towards the Syrian plight will haunt us for decades
The UN estimates 5.6 million children need help and two million have been denied an education due to the conflict. The global organisation has also been forced to cut rations by 30 per cent due to a lack of funding.