A ghastly sight of a burning body greeted local residents as they ran out of their houses after a chartered plane crashed in suburban Ghatkopar in Mumbai on Thursday afternoon.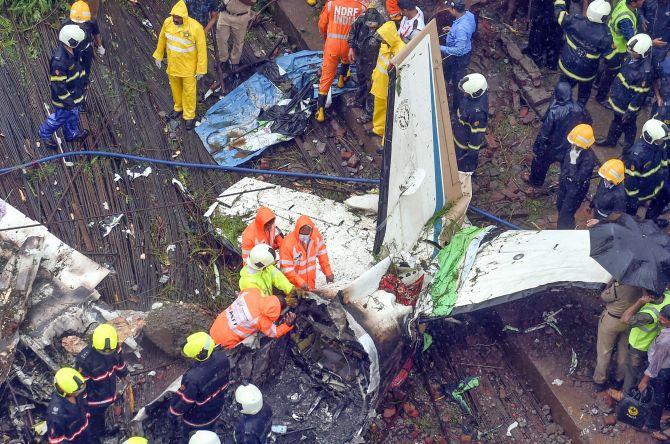 "The explosions following the crash and flames leaping in the air were so huge that initially we could not understand what has happened," said Prakash S Giri, who lives opposite the construction site where the 12-seater plane crashed.
"The toll could have been higher had the plane hit any of the high-rises around the spot," he said.
"The pilot did not let this happen. I think the pilot purposefully manoeuvred the plane to this site to avoid casualties," he said.
"There was a very loud explosion. Smoke and flames engulfed the area in the 50-metre radius, leaving us clueless as to what had happened," Giri said.
"We were having lunch when we heard the first explosion. We immediately rushed out... saw a burning body near the crash spot. We tried to save the man but the flames had engulfed him so completely that we found ourselves helpless," he said, recounting the horror.
Another local resident said after the crash, there were four-five more explosions.
A man living on the third floor of a nearby building jumped out from the balcony after the crash, fearing that his building was going to collapse, one of the eye-witnesses said.
But the incident could not be confirmed independently.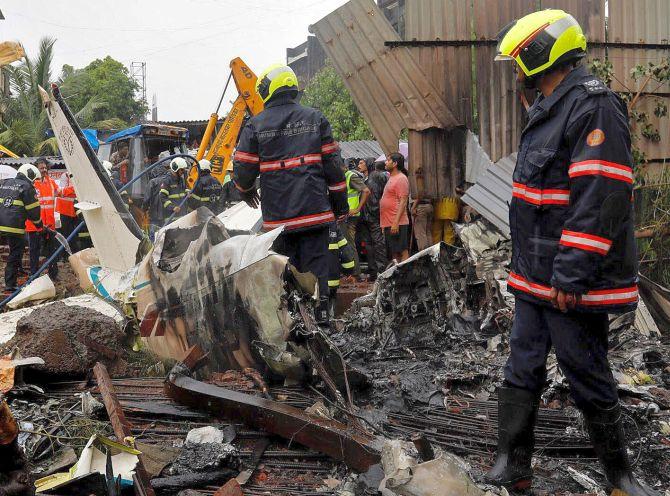 According to police, five persons, including two pilots and two aircraft maintenance engineers on board, besides a pedestrian were killed in the crash.
The plane, which crashed in the Jagruti Nagar locality of the crowded Ghatkopar shortly after 1 pm, was a King Air C90 12-seater aircraft. It had taken off from Juhu airstrip on a test flight.
Hours after the tragedy, the site became a draw for onlookers and selfie-lovers.
Police had a tough time keeping them at bay.
"I saw scenes of flames on TV and learnt that the site is not far from my home. I had never imagined that such a tragedy can occur in our vicinity. I came here to see it with my own eyes," said Suraj, a college student from Ghatkopar.
Another man was seen clicking selfies with the crash site in the background and also sending live video feed to his friends.
"I am 'live' (on video chat) with my friends who are in Uttar Pradesh. When I told them I am here at the spot, they refused to believe me. So I made a video call. It seems I have also become a journalist like you people," said Prakash, a man in his forties, before police asked him to move away.
The police and other agencies, meanwhile, struggled to collect evidence from the spot as it rained incessantly.
A police official said the CCTV footage from buildings in the area will be obtained in case it throws some light on how the crash happened.