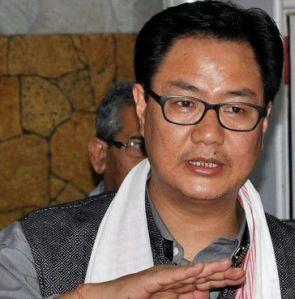 The government on Monday said the testimony of Pakistani-American Lashkar-e-Tayiba operative David Headley will end the ambiguity over the role of Pakistani "state and non-state actors" in the Mumbai terror attack and take the case to logical conclusion.
"The difference between the state and non-state actors will come to an end after this statement," Minister of State for Home Kiren Rijiju told reporters.
The minister said it was known to everyone as to who were involved in the conspiracy to carry out the country's worst terror attack in 2008 which had left 166 dead and 309 others injured.
"It is known that who all were involved. Headley's statement will lead to a logical conclusion. It will help us," he said.
Rijiju said the fresh revelations by Headley, about his background and his working style, would help the Indian investigators and prosecutors.
In his deposition before a Mumbai court, through video conferencing from an American prison, Headley on Monday said his main contact in Lashkar-e-Tayiba was Sajid Mir, suspected to be an operative of Pakistani intelligence agency Inter-Services Intelligence.
Headley said that he joined LeT after being "influenced" by its head Hafiz Saeed and took his first "course" with them in 2002 at Muzaffarabad.
Headley, who is currently serving 35 years prison sentence in the US for his role in the terror attacks, also said he changed his name from Dawood Gilani to David Headley in 2006 so that he could enter India and set up some business.
© Copyright 2021 PTI. All rights reserved. Republication or redistribution of PTI content, including by framing or similar means, is expressly prohibited without the prior written consent.