The Karnataka high court has quashed a criminal proceeding related to an alleged illegal denotification and allotment of sites against former chief minister B S Yediyurappa.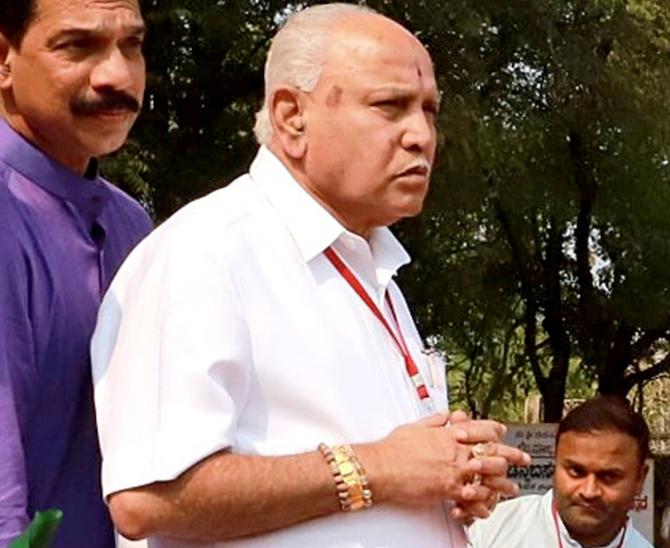 The case was registered against the veteran Bharatiya Janata Party leader by Lokayukta police in 2015 based on the report of the Comptroller and Auditor General of India.
It relates to the denotification of land by the government and allotment of sites by Bangalore Development Authority.
The counsel for Yediyurappa submitted before the bench of Justice M Nagaprasanna that the same issue was covered in a judgement by a coordinate bench of the high court in connected cases in 2016 between the same parties.
The coordinate bench had considered the allegations as to whether the report of the CAG could become subject matter of registration of a crime under sub-section (1) of Section 154 of Criminal Procedure Code.
The counsel informed the court recently that the coordinate bench in 2016 had quashed 15 FIRs based on complaints by one Jayakumar Hiremath holding that "it is unrealistic to presume CAG report as a confidential document, till it meets finality in the Parliament or the Legislature."
All those FIRs were based on CAG reports.
The 2016 judgement was quoted by Justice Nagaprasanna in his judgement on June 1 stating: "The CAG report wherefore since not available for judicial scrutiny, in my considered opinion, cannot be used as a foundation to build up a criminal case and cannot be made a part of investigation."
Allowing Yediyurappa's petition and quashing Crime No. 76 pending against him, the court said, "In the light of the issue standing covered on all its fours by the judgement rendered by the coordinate bench (supra), as also that being not disputed by the respondents, I deem it appropriate to obliterate the proceedings against the petitioner."