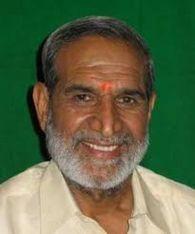 The Delhi high court on Tuesday dismissed pleas of Congress leader Sajjan Kumar and two others -- challenging the framing of murder and rioting charges against them -- in a case related to the 1984 anti-Sikh riots in the city.
Justice Suresh Kait refused to quash the charges framed against Kumar and the other accused by a trial court in the case related to the killings of six people in Delhi's Sultanpuri area.
The court also dismissed the plea of complainant Sheela Kaur, a riot victim who had filed a cross-appeal seeking to invoke an additional charge of criminal conspiracy against Kumar and four others in the case.
"All (pleas) dismissed," Justice Kait said.
Besides the Congress leader, co-accused Ved Prakash Pial alias Vedu Pradhan and Brahmanand Gupta had also moved the high court, challenging framing of charges against them.
With the verdict, the trial against all the five accused will resume in the lower court.
In July 2010, the lower court had framed charges against Kumar, Brahmanand Gupta, Peru, Khushal Singh and Ved Prakash in connection with the killing of six people in the riots that occurred after the assassination of then prime minister Indira Gandhi on October 31, 1984.
Besides charges of murder and rioting, the trial court had also framed charges for the offence of spreading enmity between two communities against the accused in the case.
The Central Bureau of Investigation had filed two chargesheets against Kumar and others in January 2010 in the riots cases.
The cases were registered in 2005 on the recommendation of the Justice G T Nanavati Commission which had probed the sequence of events leading to the violence.
A lower court had recently acquitted Kumar in another case related to the 1984 riots.
Five other accused were held guilty for offences including murder and for being a part of the mob that killed five Sikhs at Delhi Cantonment.