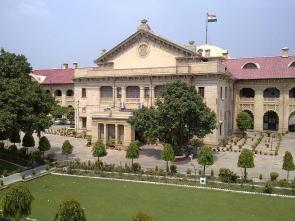 The Lucknow bench of the Allahabad high court on Tuesday ordered the detention and arrest of Uttar Pradesh Principal Home Secretary R M Srivastava for not complying with a court order to provide special security to a former minister in the Mayawati government.
The order came in a case of contempt moved by former UP minister Ramveer Upadhaya, who complained that the court's order for providing free Y-level security cover to him had not been complied with by the state administration.
Taking serious note of the non-compliance, a bench headed by Justice Sudhir Agrawal summoned the top bureaucrat and ordered his detention. But while issuing further directives to send the official to jail for four days, the court granted him some time to appeal.
After the home secretary tendered an unconditional apology, the judge granted a temporary reprieve to Srivastava, who was allowed to leave the court at 4 pm. He was been given a day's time to submit an explanation to the court.
Upadhaya, who held the energy portfolio in the Mayawati regime, was accused of being involved in a number of scams, some of which are currently under the state Lokayukta's scanner.
Known for his lavish lifestyle, Upadhaya was reportedly very upset when the Akhilesh Yadav-led state government decided to withdraw his security after reviewing the security threat to different politicians.
Upadhaya had been enjoying 'Z' level security, generally reserved for those who face a terror threat.
The minister was provided five security personnel in exchange for a fee by the state government. Taking offence, the former minister moved the high court to seek 'Y' level security for free.
The high court conceded his plea and ordered the state government to provide security to the former minister. The state government promptly made an appeal before the apex court, which upheld the HC's order.
While the state government was still mulling over the order, Upadhaya moved a contempt petition, prompting the high court to order the home secretary's detention.
In a separate case, a bench headed by Justice Satish Chandra ordered the arrest of Faizabad Additional Commissioner Shailendra Kumar Singh for not adhering to another order by the high court.