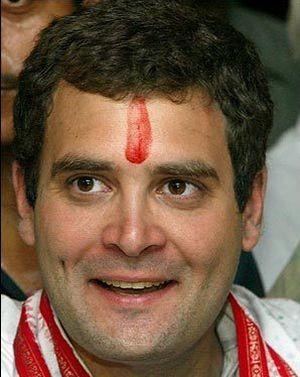 The Lucknow bench of Allahabad high  court on Tuesday issued notice to Congress general secretary Rahul Gandhi on a petition seeking information about the whereabouts of a missing girl and her family.
The girl and her family are alleged to be "untraceable" ever since they called on Rahul during one of his visit to his parliamentary constituency, Amethi on December 13, 2006.
Moving a petition on behalf of the family, Kishore Samrite, former Samajwadi Party MLA from Madhya Pradesh, has accused the Congress celebrity and his five foreigner friends of indulging in criminal assault on the 24-year-old Sukanya Singh.
Claiming to have learnt this from some news website, the
petitioner has stated, "I was moved by the news. So I came all the way from my home in Balaghat, Madhya Pradesh to Amethi where I found the girl's house locked. Local villagers were tight-lipped about the whereabouts of the family."
He has, therefore, sought the intervention of the Allahabad high court "to issue a writ of Habeas Corpus to Rahul Gandhi to produce the missing girl Sukanya, her father Balram Singh and mother Savitri Singh."
While issuing the notice, a single judge bench comprising Justice SN Shukla did not fix any date for hearing the case, the petitioner's advocate Surya Mani Raikwar told
rediff.com
.