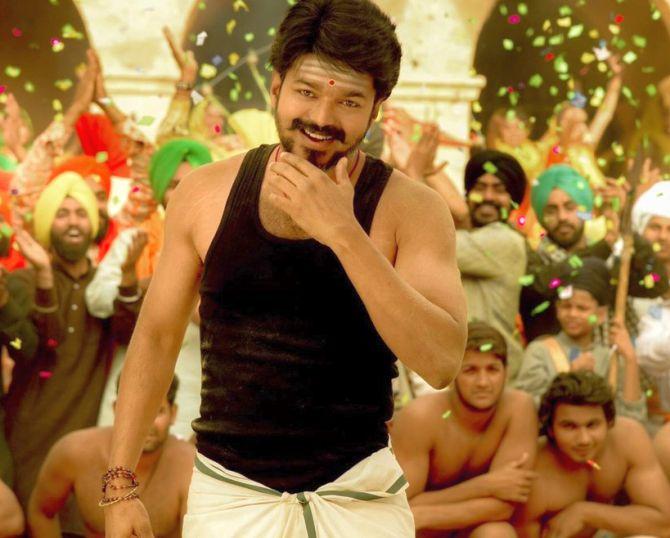 The Madras high court on Friday dismissed a petition seeking to revoke the censor certificate issued to Vijay-starrer Mersal over certain controversial dialogues relating to the good and services tax, holding that people's right to freedom of expression applies to films also.
The petitioner in his PIL had contended that the movie contained scenes and dialogues, which were against the interests of the country's sovereignty and integrity and the security of the state.
"This is a democracy and people have their right to freedom of expression, and this applies to films as well," a division bench comprising Justices MM Sundresh and M Sundar observed dismissing the plea by advocate A Ashvathaman.
"Even today the media has reported that the Leader of Opposition in the state has criticised demonetisation, can the court pass a gag order against him from making such statements," the bench said.
The petition contended there was apparent false information about the GST and the Digital India scheme, which would encourage people to indulge in tax evasion.
Wondering how the censor board had issued certification for the above movie, the petitioner had said "the film was full of wrong propaganda about India and fake dialogues and scenes which obviously lead to misconception about the new taxation system (Goods and Service Tax)."
Coming down on the petitioner, the bench said, "If you were really concerned about public and the society you should have started campaigns against various social evils like untouchability and safety of women. But you choose to target a particular movie."
Noting that the PIL had in fact helped the film get more publicity, the court dismissed the plea as devoid of merit.
The movie released on October 18, Diwali day, had kicked up a row with the BJP's Tamil Nadu unit taking exception to references on GST and Digital India.
© Copyright 2020 PTI. All rights reserved. Republication or redistribution of PTI content, including by framing or similar means, is expressly prohibited without the prior written consent.