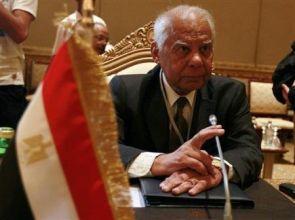 Hazem el-Beblawi, a liberal economist and Egypt's former finance minister, was on Tuesday appointed as the country's new prime minister in a transitional government as the interim president unveiled a roadmap for fresh polls by early next year to end the raging political crisis.
Interim president Adly Mansour appointed El-Beblawi to Egyptian premiership, presidential spokesman Ahmed El-Moslamany announced.
He also appointed Nobel laureate and former IAEA chief Mohamed ElBaradei as vice president for foreign affairs.
71-year-old ElBaradei leads an alliance of liberal and left-wing parties, the National Salvation Front.
The move comes after Mansour issued a constitutional declaration late last night giving himself limited power to make laws, and outlined the timetable for parliamentary and presidential elections.
The appointments ended days of deadlock over filling the top posts of the new government.
El-Beblawi, who is in his mid-70s, had served as minister of finance and deputy prime minister from July to December 2011 in Essam Sharaf's cabinet during Egypt's post-revolution transitional phase after the ouster of strongman Hosni
Mubarak.
He is a founding member of the Egyptian Social Democratic Party, Al Ahram reported.
El-Beblawi served as undersecretary-general at the United Nations between 1995 and 2000, having been chairman of the Export Development Bank of Egypt from 1983 to 1995.
Starting his academic career at the University of Alexandria in 1965, El-Beblawi became a professor of economics nine years later.
He has since taught at the universities of Cairo, Ain Shams and the AmericanUniversity of Cairo, as well as in Kuwait, California and at the Sorbonne in Paris.
Egypt is currently experiencing turmoil after the country's first democratically-elected president Mohammed Morsi was ousted by the army, sparking deadly clashes that has claimed over 50 lives.