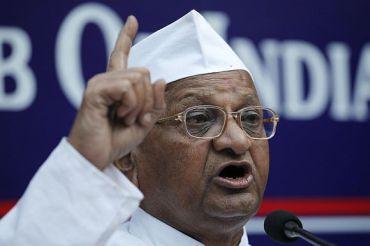 Notwithstanding the split over their movement turning political, Anna Hazare has decided not to accept Arvind Kejriwal's offer to return money collected during the erstwhile Team Anna's anti-corruption agitations.
During a meeting in New Delhi soon after the group split, Hazare was urged by volunteers that they should ask Kejriwal-led Public Cause Research Foundation to return the money but the activist told them that he had already refused to take it.
Sources, who attended the meeting, claimed that Hazare told the meeting that Kejriwal offered to return money but the veteran activist asked him to keep it.
Volunteers were of the view that they would need money to organise the movement but Hazare felt that they have to built a new movement and the issue of money should not be a point of fight, the sources said.
Hazare parted ways with Kejriwal-led group on September 19 over the issue of the anti-corruption movement taking a plunge into politics. The discussion on the issue came up at a meeting, which was also attended by Kiran Bedi, held at Maharashtra Sadan on the next day.
Kejriwal had offered a cheque more than once to Hazare after differences surfaced over the issue of forming a political party, the sources said, adding that Kejriwal went to Ralegan Siddhi and offered a cheque but Hazare refused to take it.
Hazare was of the view that they should try to get a copy of the volunteer's list, the sources said. "They can give us a copy and keep one with them. What is the harm in it?" Hazare was quoted as saying.
India Against Corruption led by Kejriwal refused to comment on the issue.
Meanwhile, Hazare's close aide Suresh Pathare on Saturday resigned from his from anti-corruption crusader's office citing personal reasons.
"I think I will not be able to devote full time to the movement. But I will work in the capacity of a volunteer as Anna would wish," he said.
When asked whether he will join the political party that would be formed by Kejriwal, he answered in the negative.
The sources claimed that villagers have reservations about Pathare and this led to his resignation.