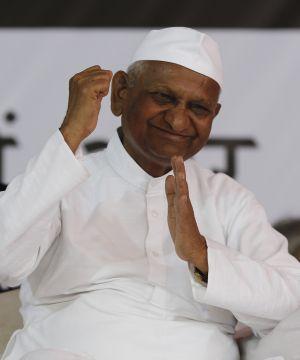 Anna Hazare on Wednesday broke his nine-day fast at his village Ralegan Siddhi shortly after Lok Sabha passed the Lokpal Bill, and announced he would form "watchdog bodies" comprising people of "impeccable integrity" to keep an eye on how the law is enforced.
Looking a bit frail yet brimming with enthusiasm after the landmark bill was passed by the Lok Sabha, Hazare thanked all parties, barring Samajwadi Party, for their support, but obliquely criticised his former proteges in the Aaam Aadmi Party, his fellow travellers in the Jan Lokpal movement, who have dubbed the new legislation as "Jokepal" bill.
Hazare, who had been crusading for anti-corruption ombudsman for long and had forced passage of the bill in the Lok Sabha in 2011 through his fast at Ramlila Maidan, hoped the bill is signed into a law within 1-2 months.
The 76-year-old Gandhian, however, said mere enactment of the law would not serve the purpose and announced he would form "watchdog bodies" in states and districts to keep an eye on how the law was being enforced.
"The law will be meaningless unless it is implemented and enforced properly. I will constitute watchdog bodies at all levels...in states, districts everywhere.
"These bodies having retired judges, state police chiefs and others with impeccable integrity will keep vigilance on how the law is implemented. Only then the people will benefit from this law," he said.
Hazare, who thanked everybody, from MPs to political parties, Rajya Sabha's Select Committee, to policemen at his fast venue, the 'pandalwala' to the doctors who looked after him during the hunger strike, his fourth for Lokpal, chose not to make any mention of Arvind Kejriwal and others from the AAP, who played a role in building the movement.
Instead, before beginning his speech, Hazare chastised some people standing in front of TV cameras, to apparently target Kejriwal and his band of media-savvy supporters.
"The country or society does not benefit from people who stand before cameras. If I had chosen to stand in front of the cameras, I would not have reached where I have," he said.
The anti-graft crusader had ordered a frontline AAP leader Gopal Rai out of his fast venue and village after he had engaged in a spat with former Army chief General V K Singh, who had slammed Kejriwal and others for having deserted Hazare and formed a political party.
Hazare had special praise for the Select Committee, which included several provisions for strengthening the Lokpal Bill after it was passed by the Lok Sabha in 2011.
"I thank the select committee on behalf of Ralegan Siddhi family and people of the country. The bill passed by the Lok Sabha was weak. The improvements made by the select committee are in conformity with the aspirations of the people," he said.
"I thank all members the Rajya Sabha and Lok Sabha with folded hands as they have taken a good step for the country. For the first time in 66 years a law is set to be made that would put brakes on corruption," he said, adding though the law will not completely stamp out graft, it would certainly being it down by 40-50 per cent.
He also thanked Congress vice president Rahul Gandhi and BJP leaders for "awakening" the parties who later backed the legislation.
Hazare voiced hope that the bill would be signed into a law within 1-2 months, before the model code of conduct for next year's general elections kicks in.
"Then people would know of the smallest things envisaged in the law and they would be able to reap its benefits," he said.
Photograph: Adnan Abidi/Reuters