The small state becomes the first to challenge the travel order, which they say violates the US Constitution.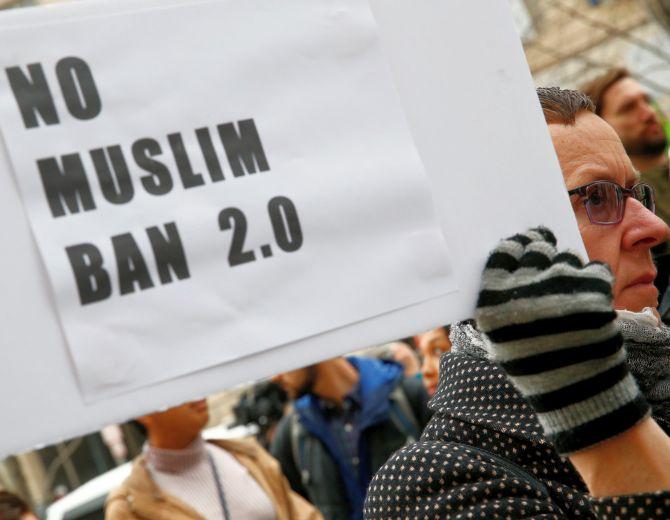 Hawaii has become the first American state to mount a federal court challenge to President Trump's revised executive order blocking travel from six predominantly Muslim countries and barring Syrian refugees for 120 days.
Hawaii's state attorney general, Doug Chin, a Democrat, claimed in a legal filing that Trump's new order would damage the state's educational institutions and private businesses, including its lucrative tourism industry, and discriminate against families with relatives overseas.
"This new executive order is nothing more than Muslim Ban 2.0; under the pretense of national security, it still targets immigrants and refugees," Hawaii Attorney General Doug Chin said in a statement.
US District Judge Derrick Watson scheduled a hearing for March 15
It remains unclear whether other states that challenged Trump's first ban will follow Hawaii's lead. The Washington state attorney general, Bob Ferguson, said on Monday he was "carefully reviewing" the new order.
On Monday, the Trump administration introduced a revised executive order, temporarily halting entry to the US for people from six Muslim-majority nations while dropping Iraq from the list, after his original order was blocked by the courts and triggered global anger.
The latest executive order specifies that a 90-day ban on people from Sudan, Syria, Iran, Libya, Somalia, and Yemen does not apply to those who already have valid visas.
Image: Immigration activists rally against the Trump administration's new ban against travellers from six Muslim-majority nations, outside of the US Customs and Border Protection headquarters in Washington. Photograph: Eric Thayer/Reuters