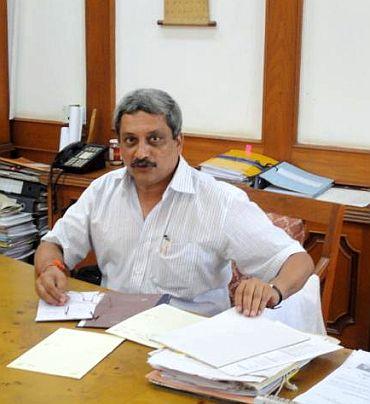 The nexus between middlemen, arms agents and government officials has been broken, according to Defence Minister Manohar Parrikar, who also said that investigators were on hot trail of suspects in the AgustaWestland VVIP chopper deal.
There was "fear psychosis and frozen mindset" when he inherited the ministry in 2014 and no one was ready to take any decision and changing that system was a challenge, he asserted.
"Under our tenure, we have broken the nexus that middlemen and arms agents had with officials in defence ministry," Parrikar told PTI in an interview.
He said things have come to such a change that officers are not afraid of putting negative views on a file which they avoided earlier.
"The crux of the achievement is change in mindset. The ministry was in a fear psychosis and was stuck up in a frozen mindset. I have managed to break this barrier of fear and create atmosphere of trust, if not full but partial that is good enough for the Ministry to start moving," he said.
Parrikar, who assumed charge of the ministry in November 2014 from Finance Minister Arun Jaitley, talked about wide-ranging issues concerning his ministry including Rafale deal, AgustaWestland scam and acquisition programmes and described transparency, fast decision-making process and ease of doing business among his other successes.
On AgustaWestland probe, he said the investigators are hot on the trail of people, including journalists, who are linked to the VVIP chopper scam and the effort is to unravel the money trail with evidence.
Asked about murmurs that government has evidence against journalists in the VVIP chopper scam, he responded, "Who said we have evidence? I am not saying there is no evidence but evidence required in such matters need to be conclusive. Let them (investigating agencies) link.
"Sometimes you get evidence but it cannot be linked in a particular manner. Let them do their job. They are trying to crack open the money trail. It is not easy."
Parrikar said there are many people whose tickets for foreign travel were booked through middleman Christian Michel.
"It has to show that it was done for a particular reason. Let us assume, there is an air show and someone sends tickets. This cannot be proved as corruption. Many a times, when marriages are held in Goa, the host sends air tickets to guests. But this is not corruption. Because he wants them to come there but if it happens too often, and for too many times, then it can definitely be a special favour. Then it starts going into the zone of corruption," he said.
Parrikar stressed that the investigative agencies have been given a free hand. "The job of the political class is to ensure that officers should be allowed to function freely. To see they are not pressurised," he said.
Parrikar said many in the ministry knew "hera pheri (wrong doing)" was happening to ensure that the Italian firm is shortlisted for the VVIP chopper contract.
"They did not have courage to talk about the wrongdoings as key bureaucrats concerned with the deal were close to the power centre. And that close contact is proved by the fact that most of them got coveted posts after their retirement or even after the job was done," he said, adding that six people linked to the deal got rewarding positions.
These people are favoured people, he said, adding, "I am not alleging but favourite means powers thought of them as own guys who will do the job."
Asserting that "no one can influence me", the defence minister said his decisions are based on merit and what is there on file.
"To the best of my ability, I will make a judgement on that. And my judgement, on most occasions, are judgements which are beneficial to the government. May be once or twice, erroneous judgements can be made but judgements are based on information available and to the best of my ability to interpret," he said.
Parrikar said he will not buy an equipment simply because someone he knows has recommended and nor will he reject something because someone has batted for it.
"Obviously, if it is a good product and price is good, I will consider it. That is why I had the courage to say Bofors is a good gun. Corruption in it was bad. People who did corruption should be punished, not the guns," he said.
He also lamented that the Ministry had not purchased a single artillery gun after Bofors controversy and he had to push for the same as it was stuck for over three decades.
Parrikar also questioned why the indigenous light combat aircraft Tejas took 32 years.
"The test flight of the aircraft took place in Vajpayee's tenure in 2001. After that, during 10 years of the United Progressive Alliance government, how many meetings did defence minister conduct to ensure that LCA goes into production and is inducted into Air Force? I did it. I did about 18 meetings on this issue. I pushed them both together. Asked Aeronautical Development Agency and Hindustan Aeronautics Limited to do what is required and asked IAF not be unreasonable," he said.
Talking about his tenure as the defence minister, he said the journey so far had been good.
"File movement has started. Decision-making on directions (are happening). They do not fear even giving a negative opinion also," he said.
Talking about specifics, he said a lot of positive changes have taken place in welfare of ex-servicemen besides armed forces involved in field operations getting a "morale boost".
© Copyright 2021 PTI. All rights reserved. Republication or redistribution of PTI content, including by framing or similar means, is expressly prohibited without the prior written consent.