The ceremony to inaugurate the new Parliament building will begin with an early morning havan and a multi-religion prayer on Sunday followed by a formal opening in the Lok Sabha chamber by Prime Minister Narendra Modi.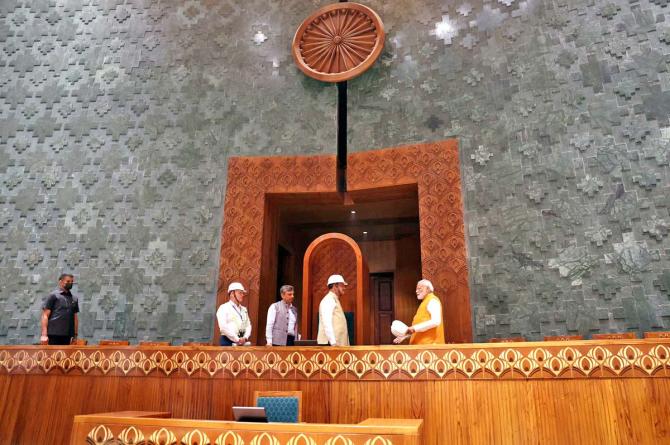 Officials said the havan will be held in the Parliament premises outside the new building around 7 am, where the ceremonial sceptre Sengol will be handed over to Modi by the high priests of the Shaivite order.
The Sengol will be installed near the chair of the Speaker in the new Parliament building.
The main function of inauguration of the new Parliament building is likely to begin on Sunday noon in the presence of the prime minister, former vice president M Venkaiah Naidu, Lok Sabha Speaker Om Birla, former prime minister H D Deve Gowda, Rajya Sabha deputy chairman Harivansh among others.
Invitations have also been extended to former prime minister Manmohan Singh, former Lok Sabha Speaker Shivraj Patil, Congress president and leader of the opposition in the Rajya Sabha Mallikarjun Kharge and leaders of opposition parties.
At least 21 opposition parties have announced a boycott of the inauguration function, while 25 parties -- 18 NDA constituents and seven non-NDA parties will be present at Sunday's event.
The triangular-shaped four-storey Parliament building has a built-up area of 64,500 sq m.
The building has three main gates -- Gyan Dwar, Shakti Dwar, and Karma Dwar.
The present building of the Parliament was completed in 1927, and is now 96 years old.
Over the years, the old building was found to be inadequate for present day requirements.
The new Parliament building, constructed by Tata Projects Ltd, will have a grand constitution hall to showcase India's democratic heritage, a lounge for members of Parliament, a library, multiple committee rooms, dining areas and ample parking space.
The existing building served as independent India's first Parliament and witnessed the adoption of the Constitution.
Originally called the Council House, the building housed the Imperial Legislative Council.
The Parliament building witnessed the addition of two floors in 1956 to address the demand for more space.
In 2006, the Parliament Museum was added to showcase the 2,500 years of rich democratic heritage of India.
Officials said the present building was never designed to accommodate a bicameral legislature and the seating arrangements were cramped and cumbersome, with no desks beyond the second row.
The Central Hall has seating capacity only for 440 persons and the need for more space was acutely felt during Joint sittings of both the Houses.
© Copyright 2023 PTI. All rights reserved. Republication or redistribution of PTI content, including by framing or similar means, is expressly prohibited without the prior written consent.