The country is being divided under Prime Minister Narendra Modi's rule, Congress president Rahul Gandhi alleged Monday and declared that a united opposition will defeat the Bharatiya Janata Party in the next elections.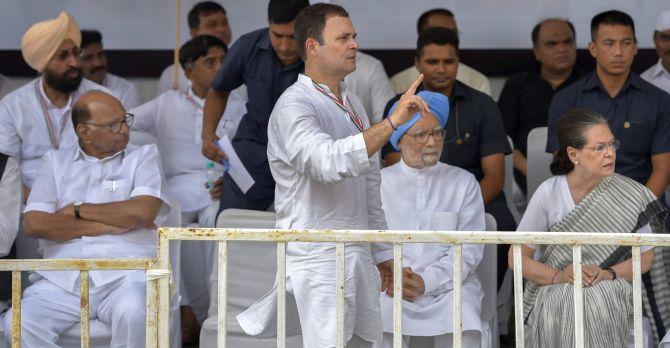 Addressing a protest rally with various opposition parties at the Ramlila grounds, he also questioned the prime minister's silence on rising fuel prices, the Rafale jet deal and issues such as farmer suicides, atrocities against women and unemployment.
Ramping up his attack against the prime minister, Gandhi said Modi in 2014 had made promises to the people of the country, youth, farmers and women, assuring them of jobs and their safety.
"People believed in him and helped form his government," he said.
Four years on, people are clearly seeing what he has done, Gandhi added.
"Narendra Modi used to say that nothing has happened in 70 years and we will do that in four years. It is true, what he has done in four years has not happened in 70 years. Wherever you see, one Indian is fighting another. Wherever you go, they divide people -- one religion with another, one caste with another and one state pitted against the other," he said.
Gandhi, who is leading the Bharat Bandh against fuel prices, made his first appearance after returning from the Kailash Mansarovar pilgrimage.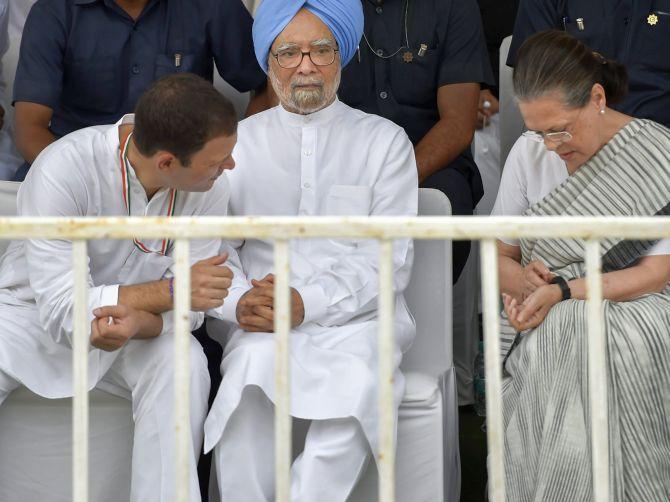 He marched from Rajghat, where he paid tribute to Mahatma Gandhi and offered water from the Mansarovar lake, to Ramlila grounds with other opposition and Congress leaders as part of the country-wide protest.
At the Ramlila grounds, he was joined by former prime minister Manmohan Singh and top opposition leaders, Nationalist Congress Party's Sharad Pawar and Loktantrik Janata Dal's Sharad Yadav.
United Progressive Alliance chairperson Sonia Gandhi was present at the rally but did not speak.
All opposition parties are sharing a common platform, he said, adding that this is a reflection of opposition unity.
"Sharing the same ideology, we will together defeat the BJP," he said.
The Congress president said it is unfortunate that the pain of the people of the country, including farmers, youth and women, is being shared by opposition leaders present at the event but not by Narendra Modi.
"This is the difference between them and us. We promise from here that we will unitedly work together to remove the BJP," he said.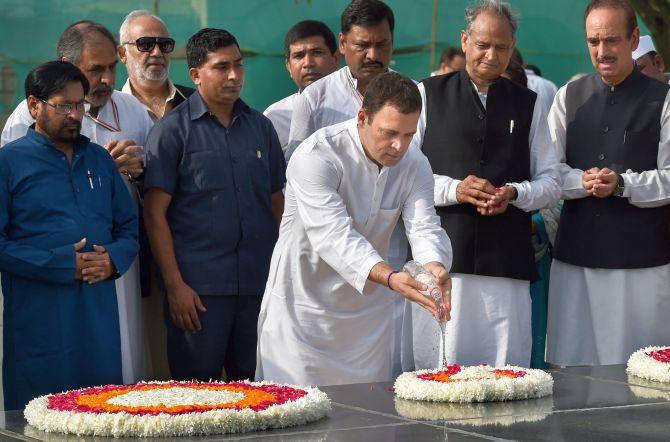 Gandhi wondered why the PM was silent on rising petrol and diesel prices, farmer suicide, rapes in which BJP MLAS are involved and the Rafale deal.
"What the country wants to hear, what the youth want to hear, PM Narendra Modi does not talk about it. Don't know which world he is in, he keeps giving speeches... The country is fed up of seeing him," he said.
While farmers are unable to find a way forward, only 15 to 20 crony capitalists are seeing the way forward, he alleged.
Hitting out at the PM and his government on the Rafale deal, he said the Rs 45,000 crore "free gift" being given to his "friend" belongs to the people of the country and has been snatched away from the people, he said.
Gandhi also accused the prime minister of "destroying" business through demonetisation and GST which he dubbed "Gabbar Singh Tax".
"We are unable to understand what purpose the note ban achieved. PM claimed black money will be eradicated. But is has turned out that back money of all thieves has turned white. Then came Gabbar Singh Tax ... corruption has risen because of that, ask any businessman. But Narendra Modi does not speak about it. This is the truth of the country," he said.
Time has come to change Modi govt: Manmohan Singh
Former prime minister Manmohan Singh Monday said it was time for all opposition parties to shed their differences and move forward unitedly "to save" sovereignty and democracy in the country.
The Narendra Modi government has taken a lot of steps not in the interest of the country and has now "crossed the limit", Singh said at the protest.
The former PM said all sections of society -- youth, farmers and common people -- are unhappy with the Modi government, which has failed to fulfil promises made to the people.
He urged the parties to listen to the voice of the people and move forward to save the country and democracy.
"The Modi government has done a lot which is not in national interest. Now it has crossed the limit and time is coming to change it," he said.
Voices from across the country can be heard saying people are unhappy with the government, Singh said.
"Time for all parties to shed their issues and move forward unitedly... it is possible only when you keep aside your own small issues and be ready to save the unity, sovereignty and democracy in the country," he said.